Power Failure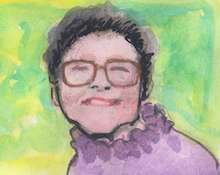 Best to Sleep by the Stove
By Marylyn Cork
Oh, no! The power has failed—with no prior warning and with my Windows 10 download still in progress. If my Internet wasn't so slow here outside Priest River, that download would have been in long ago, but it's been hours now and my daughter-in-law, who was supervising the process, gave up and went home a while back.
She's been very ill with the flu, which is why I've had to wait so long to replace Windows 7, now unsupported by Microsoft. I didn't want to replace it , and now I almost wish I hadn't. But I'm afraid to use my computer for long without support.
I'm a computer dunce, I admit it. They intimidate me to death. I don't venture into anything much without Liz standing over me to make sure the computer still works when I'm done. Well, there's nothing anybody can do now to restart the download, and the power is probably not going to be restored for quite a while. Snow has been falling outside for several days, thickly, relentlessly, piling up as if it intends to bury the world. The power lines have been sagging and tree limbs have started to break and fall across them.