Runaway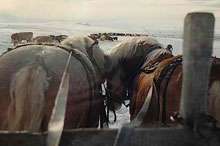 Pull on the Right!
By Robin Castle
It was a particularly pretty winter morning on our ranch north of Shoshone. There was no wind, and the snow sparkled from the sun's reflection. The air was crisp, and the snow crunched when you walked. I was seven or eight years old, I think. My brother Jess, two years younger, was with Dad and me.
This morning Jess was dressed in his new full-length snowmobile suit and was super- excited to get on the sleigh. Jess is quadriplegic and can't sit up by himself, so I propped him up near the front of the sleigh, close to where Dad and I would stand while we drove the team to a field where we would feed the cattle. Jess was propped up by my legs and by a hay bale to keep him from falling over.
A young team of draft horses was hitched to the sleigh: Tom and Sheba, a Suffolk pair. Now, if you don't know draft horses, Suffolks are solid red, very muscular animals. They also are very big, like the thick Belgian breed, but they're mostly kind and easy to be around. I helped Dad a lot with feeding the animals, because I liked it, and it had to be done before we ate breakfast. I guess the real reason I helped was I loved food.