Ski Bowls/Upside-Down Cake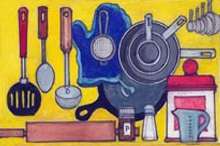 By Amy Story
Story Ski Bowls
INGREDIENTS
2 packages kielbasa beef or other sausage, cut into 1/2 inch slices
1 small jar or can (at least two cups) sauerkraut
1 can diced tomatoes, including liquid
1/2 yellow onion, diced
2 Tbsp. minced garlic
1 Tbsp. powdered garlic
Splash of soy sauce
1 tsp. salt
Lots of coarsely ground black pepper
PREPARATION
> Put all ingredients in a crock pot, set it on low, and forget it for hours. Come back to the home smelling like Grandma's been cooking. SO good with crusty French bread and fresh creamery butter to sop up the broth from the bottom of the bowl. We like to serve this in BIG bowls, with both a spoon and a fork.
Note: I named this easy lil' recipe "Ski Bowls" because it was the perfect thing to come home to after a day of skiing or sledding. But then I decided, in honor of my grown kids and all the memories we've made, to call it Story Ski Bowls.
Strawberry Upside-Down Cake
INGREDIENTS
1 white cake mix (prepared according to box directions)
2 cups strawberries (chopped)
6 ounces strawberry Jell-O™ (1 large box)
3 cups miniature marshmallows
PREPARATION
> Preheat oven to 350º Fahrenheit.
> Prepare cake batter according to the box directions. Set aside.
> Place strawberries in a greased 9×13-in. baking dish.
> Evenly sprinkle dry Jell-O mix over top of strawberries.
> Next, sprinkle the marshmallows over the top.
> Pour cake batter over top.
> Bake for 50 minutes or until a toothpick comes out clean.