Snow Lake [read this free]
A Light Show on Independence Day
Story and Photos by Matt Demke
"Hey, do you have anything going on the next couple of days?"
"Where are you taking me now?"
Most of the backpacking adventures my cousin Tristyn and I have been on in the last year or so have started with that conversation. After hours of scouring website after website looking for a trail, I usually present my findings to Tristyn, who hardly ever argues about the location. I excitedly explain that I have a great idea for our next trip, and he, being six months younger and therefore the junior partner of us nineteen-year-olds, normally goes along with it, even though when to leave is usually a last-minute decision.
I have special criteria when it comes to selecting a trail—hence the hours of scrolling and clicking. First, it has to be an out-and-back trail, not a loop or connecting trails. I find something magical about a hike in, turning around, and having the same yet different experience on the way out. Second, it has to have promising photographic scenery. Some trails are beautiful but don't lend themselves to the best picture-taking opportunities. Last, it has to be a real challenge. Something about the physical exhaustion gets me going more than anything else.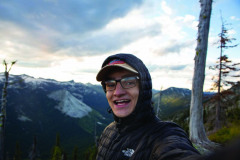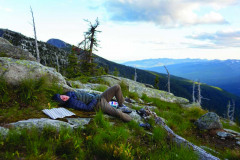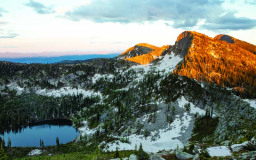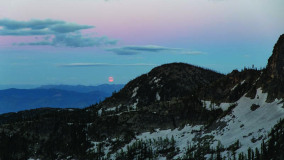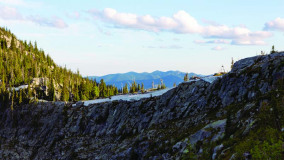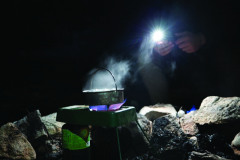 This time, my circle on the map was drawn in a part of northern Idaho between Bonners Ferry and Priest Lake. Known as Snow Lake Trail, it's a ten-mile out-and-back footpath that passes through supreme Idaho territory. Tristyn, who lives in central Washington, was captivated by the prospect of hiking through this mountainous landscape.
But our drive from Spokane, where I live, did not go to plan. We left in mid-afternoon. Two hours later and not three miles from the trailhead, Murphy, my bright red 1987 pickup, had a clutch failure. Undaunted, Tristyn and I decided to let the drive back to Spokane be a problem for another day. We put our brain cells together, ran through a mental checklist of possible mechanical failures, and soon discovered the brake fluid reservoir was completely dry. It had emptied out on the ten miles of dirt road we had driven. We adopted a sketchy system of downshifting, or compression braking, to slowly make our way to the trailhead.
The sunlight was dwindling as we parked the car and hurried along the path. It was well maintained, easily wide enough for the two of us to walk shoulder to shoulder. We crossed several large streams with relative ease, but became frustrated as the trail filled with ankle-high water when we got close to the lake. This was almost the only downside we faced the entire trip—aside from the troublesome truck, of course. And a food issue.
We set up camp just feet from the crystal-clear water. The lake sat in a crescent-shaped bowl, at the south end of which a granite ridgeline loomed that we were determined to climb, even after our five-mile hike in. The steep terrain was riddled with car-sized boulders and thick vegetation that made the climb a challenge. When we finally crested the ridge, the Selkirk Mountains filled the horizon line. We stared in disbelief: photos on the internet could never do justice to this view.
We had brought boil-ready meals on the hike as a precaution against a midnight visitor to the camp, northern Idaho being prime bear country. But in our eagerness to reach the lake before sunset, we forgot the cookstove. Now, as we sat tired and hungry on the ridge, we reflected that there was no pot back at camp in which to boil water. Even so, we were distracted from this disappointment by the scene in front of us. It was the Fourth of July, which made it a little more surreal to see the sky illuminated by the brightest of yellows and oranges to the deepest of reds. Watching the light change through each stage of sunset kept us transfixed for a long time.
When we finally hiked down, we were filled with joy and awe. And then, hours late, we finally had some sort of dinner, crawled into our sleeping bags, and fell asleep under the stars.
After we broke camp in the morning, we hiked down to Murphy to assess the damages. Once again, we were able to use our compression shifting strategy to reach a gas station twenty miles away. Brake fluid and a tank of gasoline were all Murphy needed to get us home. During the drive, I thought about what I'd miss in being away from the wilderness. And I started making a plan.