Something about the Banjo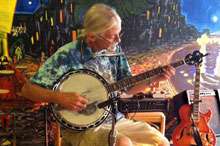 Scott Reid and Music in the Blood
Story and Photos by Desire' Aguirre
There's something about the banjo that reaches out and grabs me. Bagpipes always make me cry, but the banjo slashes away all doom and gloom, dries teardrops, and paints a smile on my face.
The banjo, a simple, old-time instrument with a percussion head and a unique sound, forces my toes to tap and my laugh to erupt.
A newcomer to the art of performing music, I am blessed to have an assortment of role models that encourage, delight, and mentor my fledgling attempts. Scott Reid, a professional musician and Sandpoint icon, always treats me as if I were, well, a real musician. Best of all, his banjo playing inspires me to keep on practicing.
Scott performs with style and grace, breathing life into whatever instrument he has in hand, and layering it with smooth vocals that welcome and delight. His style weaves the genres of country, rock, and folk into a delicate tapestry. Scott can play "Stairway to Heaven" and Jimi Hendrix on the banjo, or perform old-timey frailing style, using the back of the nail on his middle finger as a pick, and mix that up with some Gypsy fiddle, heartfelt blues guitar, and songs he has written about robbing trains and Idaho winters. The banjo is his favorite instrument. "The banjo taught me everything I know about the guitar," he told me.