Spinach Roll-Ups/Coconut Chocolate Chip Bars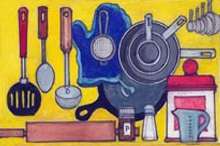 By Amy Story Larson
Bruneau Spinach and Cheese Roll-Ups
INGREDIENTS
3 Tbsp. olive oil
10 oz. mushrooms, finely minced (or food-processed)
1 bunch fresh chard, stalks removed
2 bunches fresh English spinach, stalks removed
9 oz. fresh ricotta cheese
7 oz. feta cheese
1 egg
1 clove of garlic, minced
1-1/2 oz. to 3-1/2 oz. milk
1 sheet of store-bought puff pastry, thawed in the fridge (around 12 in. x 20 in.)
For the eggwash:
1 egg
2 Tbsp. milk
sesame seeds and/or garlic or pretzel
salt for sprinkling
PREPARATION
> Heat olive oil in large non stick pan over high heat and add minced mushrooms. Season with salt and cook, stirring occasionally, until mushrooms are brown and dry with no liquid remaining in pan. Set aside.
> Bring large pot of water to boil. Blanch silverbeet and spinach by immersing into boiling water for 1 minute until just wilted, then drain and rinse under cold water immediately. Using hands, squeeze as much liquid as possible from the blanched greens (they will shrink) then finely chop them. Set aside.
> Preheat oven to 375 F. Line a baking sheet with baking paper, set aside.
> In a large bowl, combine the blanched, chopped greens, the cooked, cooled mushrooms, the ricotta and feta cheese, egg and the garlic. Use potato masher to mix and mash all together, adding a bit of milk as needed to make mixture blend. In a small bowl, prepare eggwash by beating egg with the milk. Set aside.
> Prepare your bench by sprinkling some flour onto it, then spread the sheet of puff pastry on it. Use sharp knife and long straight object to cut the sheet in half lengthways into 2 equal rectangles. Spoon half of cheese mixture onto each rectangle in a line along the middle, then use hands to shape a log. Brush one edge of each rectangle with the eggwash, then roll up the rectangles tightly onto the filling, keeping the seam-side facing down.
> Cut each roll into 4 or 5 equal portions (depending how big you want your finished rolls), and transfer them to your prepared baking sheet. Make sure you give them enough room to expand, don't place them too close to each other on the tray! Brush each roll generously with eggwash, and sprinkle with nigella or sesame seeds.
> Bake in the oven for 30-40 minutes, until golden and puffed! Cool before serving.
NOTE: Have you been to Bruneau? I visited their library recently, had a lovely chicken noodle soup lunch, and enjoyed their vibrant community of library supporters. A day well spent!
*adapted from harrisfarm.com
Crouch Coconut Chocolate Chip Cookie Bars
CRUST INGREDIENTS
1¼ c. all-purpose flour
1 c. old-fashioned oats
2 c. flaked coconut
½ tsp. salt
touch of nutmeg (optional)
¾ c. brown sugar
1 tsp. vanilla extract
1 c. butter, softened
1 egg, lightly beaten
12 oz. semi-sweet chocolate chips
FILLING INGREDIENTS
14 oz. sweetened condensed milk
¼ c. Karo® Light Corn Syrup
8 oz. toffee bits
CRUST PREPARATION
> Combine flour, oats, coconut, nutmeg, and brown sugar in a large bowl of electric mixer and mix at low speed.
> Add butter, vanilla, and continue mixing until a crumbled-style dough forms. Add egg and continue mixing well. Mix in chocolate chips.
> Hold back 1-1/2 c. of dough for topping. Press rest of dough into bottom of lightly greased 13 x 9-inch baking dish.
> Bake for 10 minutes.
FILLING PREPARATION
> Combine sweetened condensed milk and corn syrup in a small bowl and mix until combined.
> Pour evenly over hot crust.
> Sprinkle with toffee bits.
> Top evenly with reserved crust mixture.
> Bake 25 to 30 minutes until golden brown. Cool and cut into bars.
NOTE: Once upon a time, the driver of a pickup and I truck unwisely thought we could get to Silver Creek plunge, up above Crouch in early spring. Yes, you can, but not until the roads are clear. We learned the hard way.
*adapted from MomOnTimeOut.com