Spirit Dog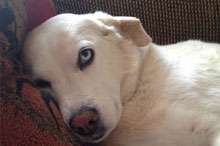 A Return to the Wild
By Elizabeth Sloan
But it did not all happen in a day, this giving over to the man-animals.
There were days when White Fang crept to the edge of the forest and stood and listened to something calling him far and away.
—Jack London's White Fang
Puerto Vallarta had entered the sultry pre-storm season a little early in the first week of June. I was visiting expat friends, and would fly back to Idaho the next day. A movement in the restaurant caught my attention.
My eyes met the gaze of a medium-sized dog who walked indoors three paces, turned, and disappeared. I burst into tears.
A couple of weeks earlier, I had been in Victoria, British Columbia, with my mother and sister. On the last day of that trip, I got a call from my daughter, Margot, who said our white dog, Sky, had hurt herself playing with a friend's puppy in our back yard.
"She was running and then she yelped a couple times and had trouble coming up the steps into the house. Maybe it's her back again. She seems to be in excruciating pain, and is lying under the table panting. Her eyes are rolled back."
When I got home to Moscow from Canada, Sky was moving easier but she listed and occasionally stumbled. In five days, I was to leave for the Mexico trip. Her right eye looked glazed­, which wasn't hard to notice in a dog with eyes so light they were nearly white, rimmed in black; knockout eyes that everyone admired. Then the eye became bloodshot until it was alarmingly red. Our friend and veterinarian, Janet, checked her.
"Sometimes they can snap out of it," she said. "I don't think it was a stroke, because her eyes don't waver as would be expected."
The eye cleared, but then her right nostril began to bleed, and for a while that day her nose seemed to be saturated in red. If it didn't stop, I'd have to make choices. It was all happening so suddenly. The nose bleeding subsided, but she wasn't eating. Another dog lover, Dave, suggested it might hurt her to chew dry food so I gave her some canned food, which she seemed to relish for a day or so.
I discussed options with Janet, Margot, and Dave, the three people who would care for Sky while I was gone.
"If she has to go, do it. I don't want her to suffer."