Stage Fright at the Follies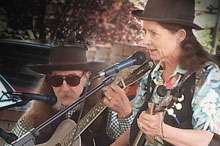 An Unwelcome Old Acquaintance
By Desiré Aguirre
The first time I read one of my own poems in front of a live audience, my cheeks burned bright red, my eyes filled with tears, and I thought I would need an oxygen tank to breathe.
Needless to say, the experience overwhelmed me, and for three years I refused to stand in front of a microphone. My daughter, DaNae Aguirre, and my mom, Rhoda Sanford, continued to inspire and encourage me. They had this show-woman thing down. They didn't need oxygen tanks.
Eventually, I returned to college and majored in communications, where I was required to give numerous speeches in front of live audiences. Picturing them naked didn't ease my unease, but I practiced hard, and the added incentive of making a good grade helped me stop crying every time I stepped in front of a crowd.
Unfortunate events (the deaths of my son Nikolas and dear friend Drew) helped me make the decision to step out of my comfort zone and learn to play the mandolin. It turns out I have a knack for stringed instruments, especially the banjo, and before long, I was playing in a band called Ruff Shodd with my musical mentor, Fiddlin' Red Simpson [see "Fiddlin' Red," IDAHO magazine, November 2011).
Luckily, Red is patient and kind. The first couple times I performed, I forgot everything I had worked so hard to master. Red would smile, say, "Let's start again," and if necessary, whisper the chord changes so I could properly back him up. And then he'd take me out to dinner. He told me I never had to perform again if I didn't want to. But I was hooked. Performing made me feel like I had a voice, that I was truly alive, and it gave me an adrenaline rush that was quite addicting. I became determined to overcome the stage fright phenomenon.