Suffer No Hot Dogs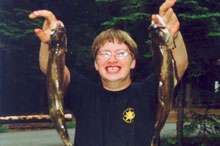 The Campfire Joys of Dutch Oven Cuisine
Story and Photos by Marylyn Cork
The boy was sulking. Even sixteen-year-olds do that sometimes. In this case, my grandson Jesse was intent on trying to convince me to drive my truck to Priest Lake so he could take his little fishing boat along on a camping trip.
It's a rowboat, basically, although he does have a motor for it and takes it out on small lakes and the Pend Oreille River near his home.
"There's no point in it," I remonstrated. "Your Uncle Kurt has decided to go along on this camping trip, and he's taking his fishing boat. You won't need yours."
Still, he sulked, until we arrived an hour later and he got his first glimpse of that huge, beautiful lake, one of northern Idaho's celebrated Big Three. (Priest Lake has 23,000 surface acres and nearly eighty miles of shoreline.) Perhaps Indian Creek Bay, at the campground, looked a bit intimidating for a boy in a rowboat. With a lighter heart, he clambered aboard his uncle's eighteen-footer and away they went, along with his two teenaged cousins, intent on catching a few of Priest Lake's celebrated mackinaw trout. We three women stayed behind to set up camp.