The Long Road Back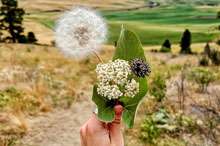 In the Fold of Midnight Stars
By Miranda R. Carter
My grandfather gave us the northern Idaho wilderness. He gave it to us in all its forms: vast populations of pines fleshing out rich, rolling hillsides; ribbons of reflective rivers and crystal runoff cutting through muddy banks; yellowed ponds and patchwork fields torn by four-wheelers and motorcycles; sunlight and snow and the sharp shoulder blades of lookout mountains.
"God's country," he called it. When I moved to Colorado, and later to Montana, he referred to my location as "out of the country." He never could understand why anyone would want to be anywhere else.
Growing up, we internalize our hometowns as the hub of our existences, no matter how rural or inconsequential they might seem in comparison to densely populated places with actual airports and internationally known names. Even after we initially depart, it is tempting to refer to our hometowns as reference points in relationship to other parts of the world. We do not merely live in Colorado or Montana. We live x-number of hours from home. We do not merely live in Colorado or Montana, we are from somewhere else, and that never goes away no matter how comfortable we are with shedding layers of the places that raised us.