The Reluctant Reunioner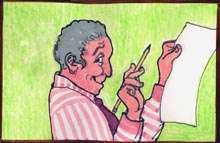 Amid Friends and Stranger
By Steve Carr
I attended my twenty- year high school reunion this past weekend.
OK, maybe it was the thirtieth, or was it the fortieth?
Somehow, I've misplaced a few decades in the middle.
My missing years aren't due to excessive drug use, at least that I remember, but to the blending of days, their parts and pieces, ingredients, healthy and not so, mixed and diced until served as a bland but not disagreeable, hurry-out-the-door, breakfast nutrition drink. Thinking twenty-eight and looking fifty-eight, I was a bit of a reluctant reunioner.
The truth is, it was fun. I'd been scheduled to be out of town, but an un-fun middle-aged surgery restricted my travel. I was game enough to sit and visit for a while with old friends and even some classmates I swear I had never known before.
Here's the thing. At our age, no one really cares anymore (okay, mostly no one) about who had Dolly Parton surgery or who played poker with the Governor. (I won with a busted straight and a deft bluff.) Despite the different paths taken, our lives were strangely similar. We had survived teenage children, odd maladies, and mullet haircuts. We had buried parents, pets (including Pet Rocks), marriages and bad habits. We didn't talk about the new vices, but recognized something always fills a void.