The Spiral Highway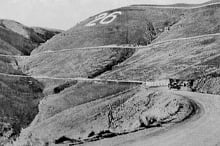 My Turn to Drive
By Mark Ready
In 1976, as the United States celebrated its Bicentennial, I was a fourteen-year-old in Lewiston, sitting behind the wheel of a brand-new Chevy Camaro. My driver's education instructor was Richard Hager, a man whose black plastic-rimmed glasses and mild-mannered junior high school teacher persona hid nerves of steel. He slid into the seat beside me, armed only with a passenger-side brake that we called a chicken brake and a clipboard. He familiarized me with the mirrors, brakes, throttle, and turn signals and directed me to pull away from the curb. The brave man's first advice was to use only my right foot for the gas and the brake.
My pappy said, "Son, you're gonna drive me to drinkin' if you don't stop drivin' that hot rod Lincoln."
The rockabilly riff of the iconic American song went through my head, accented with whines and squeals that mimicked the sounds of a powerful engine, skidding tires, and a horn saying get out of my way. Five years earlier, country rock band Commander Cody and His Lost Planet Airmen had released a version of "Hot Rod Lincoln" that reached number nine on the Billboard Hot 100. Charlie Ryan and W.S. Stevenson wrote the hit song, which Charlie first recorded in 1953.