The Water Pump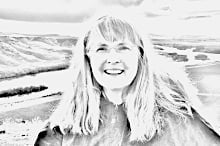 A Monument to Persistence
Story and Photos by Diana Hooley
On my hike this morning I took a different route to the Snake River Canyon. I walked through the dilapidated shed that houses the pumps that irrigate this end of the valley. By following this path I avoided the bull grazing in the pasture and the electric fence surrounding him.
When I climbed over a big pipe in the pump shed, I glanced at the old cast-iron Pomona pump. It sat braced on a patchwork of planks and rattled ominously, as if it might fly apart anytime—which wouldn't surprise me. This pump has been continuously running for eighty-two years.
Leaving the pump house behind and striding on into the canyon, I thought about the Pomona pump, and the plans underway to finally retire it. The irrigation company that serves us in Indian Cove is currently in the process of modernizing its antiquated system.
Water districts across our state are doing likewise: the Marysville Project in eastern Idaho, the King Hill District in central Idaho, and in the southwest, Caldwell's 269 Project. These districts are "ditching the ditch"—getting rid of open-air canals. They're saving both money and energy by replacing the canals with underground, pressurized pipes to ferry irrigation water.
These same ideas, innovation and progress, were what led to the Pomona pump's installation in 1941. Technology was simpler then, before the Idaho National Engineering Laboratory or Micron came on the scene. The only thing nuclear in Idaho in 1941 was the family, and chips were something left by cows in the field.
My husband's grandparents, Paul and Alta Hooley, had just moved to Indian Cove a few years before, in 1938 (see "Indian Cove—Spotlight," IDAHO magazine, January 2021). They joined a few homesteaders struggling to farm here in the sand and sagebrush.
Paul and Alta were people of faith who dreamed of creating a larger community but soon realized they needed reliable water for their land. With this in mind, Paul filed for five hundred acres of water rights.
Not long after, though, this strong, forty-six-year-old man, father to a new baby girl, suddenly died from a blood clot in his brain. Paul left behind his diminutive wife Alta, barely five feet tall, and five other children.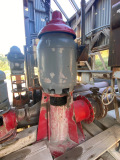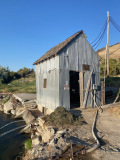 My father-in-law, Wes, was seventeen years old when his father died. He and his brother, Paul Ervin, along with some neighbors and an uncle, tried to advise their mother after Paul's passing. Should Alta stay and continue the irrigation project her husband had begun? Or should she move back East to where she grew up and where extended family waited to help her?
Eventually, Alta asked Wes to accompany her in their old Model A to the Owyhee County Courthouse at Murphy. It was a long drive over a broken gravel road and rabbit trails. I don't know who took care of her baby while she was away on this trip.
At Murphy, Alta paid the back taxes on abandoned homesteads in the area and took ownership of them in order to utilize the water rights her husband had acquired. Then she, along with her sons and a few neighbors, built an irrigation system.
Under Alta's supervision, Wes and Paul Ervin began digging an irrigation canal by hand. "Those boys ran when she called!" my husband said of his Grandmother Alta, who managed her workforce with a firm hand. Later a Fresno Scraper was employed, pulled by the family's two horses, Duke and Blazer, to finish the canal dig.
After the Pomona pump was installed on the riverbank sixty feet below the ditch, the first water rushed up and the desert plains were transformed to lush green fields of alfalfa.
Tired from my canyon hike, I still had enough energy to climb a little rise to get a view of the valley. Once the Pomona pump is disabled, we probably should store it somewhere—or enshrine it.
Maybe we should cement it on a pad along the river, a monument for all to see with an engraving at the bottom that reads: "The First Irrigation Pump in West Indian Cove, 1941. Thank you, Alta Hooley, for Your Persistence, Courage and Faith."
If you enjoyed this story, please consider supporting us with a SUBSCRIPTION to our print edition, delivered monthly to your doorstep.