Toscana Soup/Caramel Bread Pudding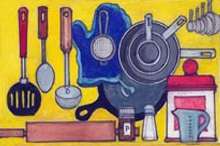 By Amy Story Larson
Teton Toscana Soup
INGREDIENTS
1 tbsp. ghee
1 lb. ground Italian sausage
6 c. chicken broth
10 oz. (or about 3 1/2 cups) cauliflower florets
1 Tbsp. Italian seasoning
1 tsp. garlic powder
2Tbsp. minced garlic
1 tsp. red pepper flakes
5 oz. fresh kale, chopped
14.5 oz. can full fat coconut milk
OR full fat heavy whipping cream
salt/pepper , to taste
Cilantro, optional
PREPARATION
> In a large pot, melt ghee over medium-high heat.
> Add the Italian sausage and cook for 5-7 minutes until browned. Use a wood spoon to keep it nicely ground.
> Add the broth, cauliflower, seasoning, garlic powder , minced garlic, red pepper flakes, and mix well.
> Bring your soup to a boil. Reduce heat, cover and simmer 10 minutes.
> Add the kale and coconut milk, and simmer an additional 5 minutes until the cauliflower can be easily pierced with a fork and the kale is tender.
> Add salt, pepper, additional pepper flakes, cilantro (optional) to taste
NOTE: One of my many Eastern Idaho bike rides, as a youth, was out to Teton, just past Sugar City. The first time I cycled out there, I was probably only about fourteen, fascinated by Fremont County's fields, giant rolling irrigation, and the freedom of wide open spaces. A 10.2 mile trip from where I lived, 20.4 mile round trip, I'd enjoyed being immersed in small town life, (really small, under 1,000 population), if only for an hour or so.
Richfield Rum Caramel Croissant Bread Pudding
INGREDIENTS
6 small stale croissants (or 3 regular-sized)
3/4 cup sugar
3 Tbsp. water
1/2 cup heavy cream
1/2 cup milk
2 large eggs, lightly beaten
2 tsp. rum extract
1/2 tsp. vanilla extract
1/2 tsp. almond extract
Butter to grease baking dish
Pinch of salt
PREPARATION
> Preheat oven to 350°F. Tear the croissants into smaller pieces and place in a small buttered baking dish.
> In a saucepan, combine sugar and water by swirling to dissolve. On medium-high heat, allow the mixture to bubble and caramelize to an amber color. Be sure to watch carefully, so the mixture doesn't burn quickly. Turn the heat down low and slowly add the heavy cream. Whisk once the bubbling subsides, while adding milk and rum. Remove pan from the heat, and add the eggs while whisking.
> Pour mixture over croissant pieces. Allow croissants to soak the mixture for about 5 minutes. Bake for 15-20 minutes.
NOTE: Richfield is located in Lincoln County, population listed as 482. I once took a wrong turn, and found myself at the friendly little Friday's Market, before heading on to my sister's home in Mackay. I recall driving away with a smile.
*adapted from tastemade.com