Travels with Albie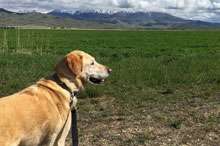 An Idaho Idyll
Story and Photos by Peter Zheutlin
The first and only time I had previously been in Idaho was nearly a half century ago. Coincidentally, I had then traversed the state across its narrow panhandle, as the novelist John Steinbeck had during travels with his dog Charley. This time, however, my dog Albie and I were arriving from Burns, Oregon, and headed for Boise. Never having been to Boise, I didn't know what to expect.
When we arrived in the mid-afternoon we headed directly to the State Capitol. Almost every magazine photograph of Boise I'd seen showed a majestic building set against large, wheat-colored hills. In my experience state capitol buildings are usually a good way to get oriented in a capital city.
It was a magnificent spring day in 2018, sunny, clear and about seventy degrees. The capitol grounds were beautifully landscaped with flower gardens and deep green lawns all around. Within the grounds Albie and I found a bench in a small, circular, memorial park dedicated to Cecil Andrus, the progressive, conservation-minded former governor who served as Jimmy Carter's Secretary of the Interior. Thanks to Andrus, some of the nation's most treasured wilderness has enjoyed protection from the forces of development and greed. Across from where we were sitting was a pedestal with a bust of Andrus on top. I was surprised to learn that the memorial we were enjoying had been dedicated just a few days before. Perhaps even more surprising here in deep, deep-red Idaho, was this inscription beneath the bust of Andrus:
Now we must look ahead. We must prepare ourselves to fight and win new battles, to press the great and just cause of improving the human condition. Our calling is to assure a full place at the center of society for those who, too often, live on its edges. Our mission is to use the power we possess and the good that government can do to carry the fight against ignorance, disease, poverty, and intolerance.