Where Was Hector?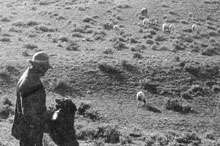 By Kurt Caswell
Following is an excerpt from Kurt Caswell's new book, Getting to Grey Owl: Journeys on Four Continents. A former Idaho resident, Caswell now teaches in Texas. This excerpt is from a chapter titled, "Crossing over the Mountain," other parts of which appeared in IDAHO magazine in different form (see "A Shepherd's Life," March 2006). On Lookout Peak in the West Mountains near Cascade, the author is working with a Basque sheepherder named Hector:
As I made my way to the band, I consoled myself. You've done the right thing. You've done the right thing. Hector would have abandoned the lamb, too.
He had already abandoned that ewe a couple days back, her wool mostly gone, her face gaunt and tired, her last moments upon her. What was that night like for her, I wondered, the dark coming on, the temperature dropping, alone among the silent trees as the band moved farther and farther away, she calling out with no one listening, no one coming for her except the coyotes now, barking and calling to each other with excitement, one appearing out in front of her, another behind, a few more coming off down the hill, coming in on her from all sides.