Zucchini Squares/Icy Pops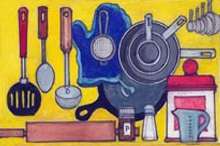 By Amy Story Larson
Wilder Garden Zucchini Squares
INGREDIENTS
3 eggs, beaten
1/2 c. vegetable oil
1 c. gluten-free Bisquick™
1/2 c. grated Parmesan cheese
½ c. chopped green onions
3 c. thinly sliced zucchini, with skins on
1 tsp. dried parsley
1/2 tsp. salt
1/2 tsp. pepper
1/2 tsp. Italian seasoning
1/4 tsp. garlic powder
PREPARATION
> Combine eggs, oil, and Bisquick™ mix in large bowl.
> Add cheese, green onions, zucchini, and seasonings. Spread batter in a 13x9x2 inch prepared baking dish.
> Bake at 350 degrees for 25 to 30 minutes, or until golden brown.
> Cut into small squares.
> Serve hot or at room temperature.
NOTE: This summer I was invited to a garden party at my friend Kelli Smith Romine's home near Wilder, where we each created a painting. Seated under trees amongst Kelli's small orchard with birds chirping, bees humming, and flowers sharing their heady perfume was the epitome of heaven.
We were celebrating the birthday of Kelli's mom, Gerri.
During "intermission," we went into Kelli's beautifully decorated, "homey" home to partake of a broad array of snacks, where I discovered a recipe I had to have for the rest of my life. Gerri made these delicious Parmesan-zucchini squares, and I was hooked, eating three in one sitting amid talk of pickle ball playing. It seemed Gerri and friends had a group of fifty-strong in Caldwell scouting for the best places to play.
They laughed about their battle-scar bruises, some forming perfect pickle ball circles.
It was the perfect day out on that Wilder property, in an older neighborhood engulfed in trees, just a stone's throw from the Snake River.
Root Beer Float Icy Pops
INGREDIENTS
Root Beer (you can find some really smooth, mellow local root beer in downtown Boise)
Blue Bunny™ old-fashioned vanilla ice cream, slightly melted but still cold
PREPARATION
> Fill bottom inch or so of homemade popsicle molds with slightly melted vanilla ice cream, place in freezer for two or more hours.
> Combine 2 c. root beer into a large bowl with ½ c. melted ice cream. Pour mixture into remaining space in popsicle molds, freeze for 3-4 hours.
> Once frozen remove popsicles by running molds under water, avoiding the top area. Carefully slide popsicles out of molds, and devour!
NOTE: Going to the neighborhood ice cream and soda parlor in downtown Boise on a weekend with two women who've lived in Boise their entire lives is the epitome of nostalgia.
Betty and Fran both wanted root beer floats, the treats of their youth.
Tastes bring a person back to the joys of yesteryear, where wait staff delivered ice cream on roller skates on a Friday night, when the ice cream joint was the place to be, just off State Street. I watched all those emotions cross these ladies' faces, and it tugged at my heart.
One thing is always a given: the root beer-to-ice cream ratio is often lacking. You're certain to run out of soda before you run out of ice cream. I suppose the same holds true with this recipe, which is heavy on the ice cream.
So be it.
*Adapted from dailydishrecipes.com