FB Faves
Each month, we post the five most popular photos or videos that appeared in the previous thirty days on IDAHO magazine's Facebook page.
May 16 to June 15, 2018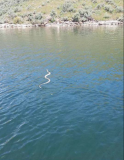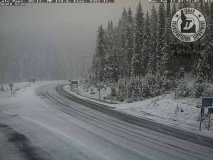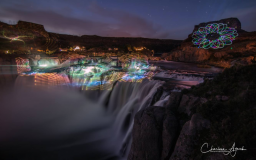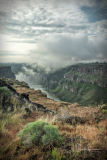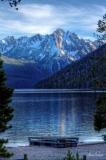 First
6/12: Rattlesnake in Magic Reservoir the other day! I have a post with this pic and many locals say they've experienced rattlers in the reservoir and they're aggressive! They'll chase after you and try to crawl up your boat and legs, etc! I had no idea and I've had my kids swimming in there for years! I'm trying to let people know—wish I had known yrs ago, I wouldn't have had my toddler at the time swimming around in there! ~Photo by Carolyne Goff. Reach: 145,821.
Second
6/11: Taken today (by Idaho Transportation Department) at 7:51 a.m. at 5,262 feet level on Lolo Pass. Thanks for sharing! Anybody up for a drive? ~Sent in by William Swanson. Reach: 124,090
Third
5/20: The laser light show at Shoshone Falls ran for three nights last week. They're hoping to make it an annual event. ~Photo by Charlene Aycock. Reach: 65,764
Fourth
5/22: Early morning in the Snake River Canyon. ~Photo by Sharon Breshears. Reach: 38,256
Fifth
6/11: Despite the gorgeous hues in the photo, you can't be blue at Redfish Lake. ~Photo by Sharon Breshears. Reach: 29,706
April 16 to May 15, 2018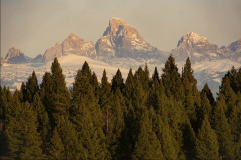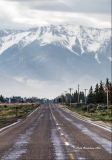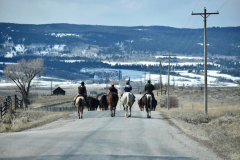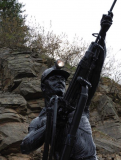 First
5/15: A priceless view of Idaho's side of the Tetons from the Mesa Falls Scenic Byway. ~Photo by Mike Terry. Reach: 36,948
Second
5/12: The Lonely Road – this in the Big Lost River Valley. ~Photo by Link Jackson, linkjacksonart.com Reach: 29,050
Third
4/23: Big Southern Butte in the Idaho desert east of Arco. Few will remember 16-inch naval rifles manufactured at Pocatello that were railroaded here for proof firing into the side of the butte during WWII. ~Photo by Dick Morris. Reach: 17,684
Fourth
4/30: Another of those darned traffic jams. Driggs.~Photo by Anna Kirkpatrick. Reach: 17,225
Fifth
5/2: The Sunshine Mine accident took place 46 years ago today. This monument is near Kellogg, placed in memory of the 91 lives that were lost that day. ~Photo by Lindy Bauer. Reach: 15,503
March 16 to April 15, 2018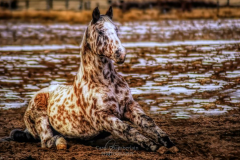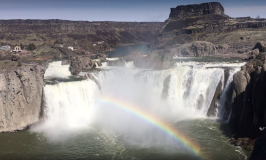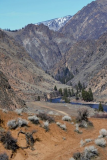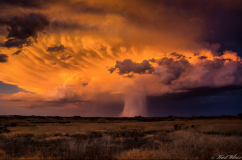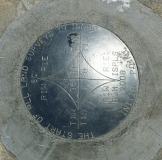 First
3/27: This beautiful polka-dotted horse is Mr. B, a 34-year old registered Appaloosa who belongs to my sister. He is perfectly camouflaged for this time of year! ~Photo by Carol's Pictures, carolspictures.smugmug. com Reach: 34,549
Second
4/8: Shoshone Falls is having another banner year! This was today. ~Video by Colin Randolph. Note: this video is similar to the one posted on the magazine's Facebook page—Colin had to take down the actual video, because it was so popular that it overloaded his server, and it also was very popular on our site until then. Reach: 29,777
Third
3/25: Bernard Airstrip at Impassable Canyon on the Middle Fork on the River of No Return, in the Frank Church Wilderness. ~Photo by Lisa Stewart Sullivan.
Reach: 20,716
Fourth
3/16: Thought you might like these. Supercell with a hail core and Mammatus clouds are probably my most favorite clouds. I wanted to get under the birds but couldn't quite manage it as the sun was setting fast, they were in a hurry to head out. This was near Minidoka. ~Photo by Kurt Wilcox. Reach 19,899
Fifth
3/24: If you're standing here, where in the world are you, and what does it mean? ~Photo by Bob Manzer. Reach: 17,980
February 16 to March 15, 2018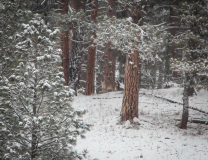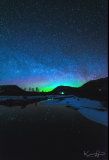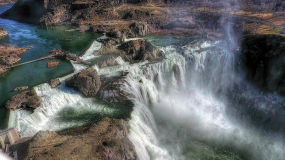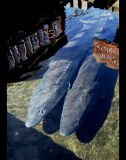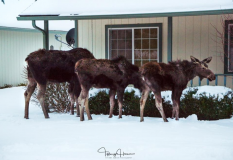 First
2/27: Caution! Kitty cats on the prowl. I ran into these cougars over the weekend just south of the Grandjean pullout. I had my tripod set up taking photos of the river, the dog was doing her thing and we had been out there for close to an hour. The big cat caught my eye first, so I took these pictures then realized I had my 10-22 (wide angle) lens on. I dropped my pack to get my 24-105 out and the big one came down the ridge towards us. I freaked out, yelling at my dog who thought I was playing a game and running all around. Ooohh, I could have beaten her. I got her safe and looked back and they were gone. The encounter was short—but absolutely incredible. ~Photos by Tyler Lambert. Reach: 17.223
Second
3/11: Aurora Borealis winks and dances along the horizon at Pack River.
~Photo by Kari Ell. Reach: 14,309
Third
3/14: A drone's eye view of Shoshone Falls over the weekend.
~Photo by Kevin Oliverson. Reach: 14.005
Fourth
2/27: A couple of sturgeon investigate the photographer near Hagerman.
~Photo by Michelle Chadd. Reach: 13,911.
Fifth
3/1: Sometimes you have to go looking for wildlife. Sometimes it comes looking for you.
~Photo by Tiffany Hansen. Reach: 13,376.
January 15 to February 15, 2018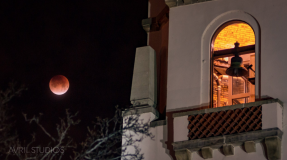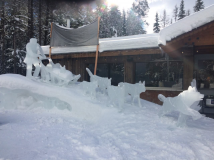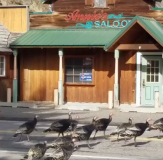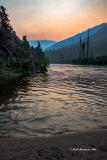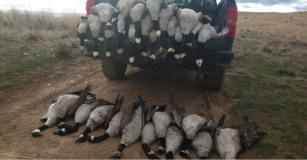 First
1/31: The "Blood Moon," Blue Moon and lunar eclipse as seen from the Boise Depot in the wee hours today. ~Photos by Dave Morales, Avril Studios. People reached: 54,361.
Second
1/29: Sad news from McCall's Winter Carnival: this beautiful ice sculpture of a musher and dogs was destroyed in the middle of the night this past weekend by thoughtless clods who doubtlessly thought they were pretty clever. We are happy to have a photo of it to remember its beauty. I thought the lead dog beautifully captured the joy of sled dogs doing what they love. ~Photo by Carol Lewis. People reached: 43,193
Note: This same photo was posted earlier in the month, before the vandalism, and reached 28,857 people.
Third
1/29: There was a terrible traffic jam in Albion last weekend. Be careful if you're traveling through the area. ~Video by Carol Warr. 39,941 partial and full views.
Fourth
2/10: Sunrise on the beach. Middle Fork of the Salmon River ~Photo by Link Jackson. People reached: 22,962.
Fifth
2/7: Waterfowl dumped near Kuna Butte. Your help is needed with this investigation. Someone knows who did this – maybe you? Idaho Fish and Game Southwest Region. People reached: 16,662.