FB Faves
Each month, we post the five most popular photos or videos that appeared in the previous thirty days on IDAHO magazine's Facebook page.
March 16 to April 15, 2019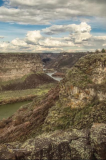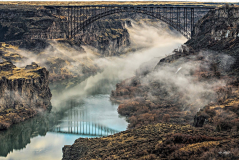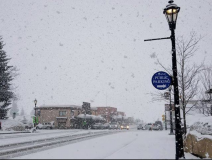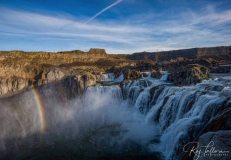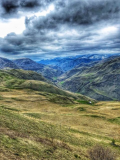 First
4/12: Springtime in the Snake River Canyon is breathtaking! ~Photo by Sharon Breshears. Reach: 66,069.
Second
3/27: A stunning, moody photo of the Snake River Canyon and the Perrine Bridge. ~Photo by Kim Critchfield. Reach: 47,061.
Third
3/29: Quite the Hallmark Christmas movie scene in downtown McCall this morning… Isn't it Spring yet?! ~Photo by Julie Conrad. Reach: 43,014.
Fourth
3/18: I drove down in from Boise to catch the early morning sun rays at this bridge over Snake River near Twin Falls and Jerome. I was not disappointed by this lovely structure. On the other side of the bridge you can see the lovely aptly called Snake River carving the canyon
On the way back I saw the sign to the Shoshone Falls and made a quick detour. Another marvelous sight. As a bonus, I was able to catch the rainbow in the water mist from the falls as the morning sun's rays hit it. Beautiful Idaho. ~Photo by Raj Talluri. Reach: 42,339.
Fifth
4/15: Looking north toward Riggins.~Photo by Erik Kaminski. Reach: 40,210.
February 16 to March 15, 2019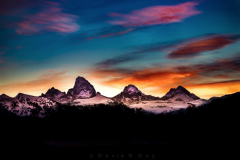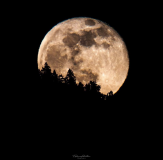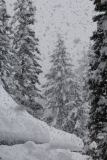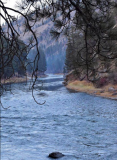 First
Good morning from our side of the Tetons . . . and now goodnight! ~Photo by David R Day. Reach: 46,094.
Second
1/18: A beautiful full moon rising over Gold Hill in Potlatch. The February full moon is called the Snow Moon. ~Photo by Tyler Horton. Reach: 26,971.
Third
3/1: It was quite the blizzard yesterday in McCall . . . some of the largest snowflakes I've ever seen here. It was a beautiful Winter Wonderland, although many residents were crying, "Uncle!"~Photo by Julie Conrad. Reach: 25,134.
Fourth
2/28: The River of No Return near Shoup. ~Photo by Lisa Sullivan. Reach: 21,700.
Fifth
Reaching between Twin Falls and Jerome—the beautiful Perrine Bridge. ~Photo by Clint Moerer. Reach: 20,456.
January 16 to February 15, 2019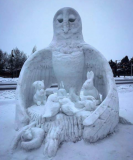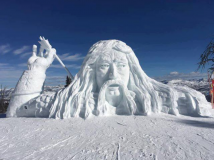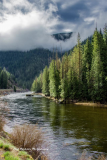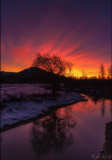 First
1/26: The Grand Champion among the ice carvings in the festival this weekend at Driggs. ~Photo by Anna Kirkpatrick. Reach: 74,568.
Second
1/28: The People's Choice Award from McCall's Winter Carnival this past weekend. ~Photo by Julie Conrad. Reach: 33,422.
Third
214: You don't hear a lot about the Lochsa River. Let's keep it that way. ~Photo by Link Jackson. Reach: 30,,202.
Fourth
2/1: The sun takes off from Clark's Fork in a blaze of glory. ~Photo by Kari Lynn Ell. Reach: 25,940.
Fifth
1/17: The River of No Return near Shoup. ~Photo by Lisa Sullivan. Reach: 25,702.
December 16, 2018 to January 15, 2019
First
1/1: Sending you wishes for happy days and a beautiful year! I hope 2019 is your best year yet. ~Photo posted by Kitty Fleischman. Reach: 182,218.
Second
1/10: An autumn sunrise at the Perrine Bridge in Twin Falls. ~Photo by Sharon Breshears. Reach: 105,347.
Third
12/18: Somebody shook the snow globe in McCall this morning! ~Photo by Julie Conrad. Reach: 61,479.
Fourth
1/14: This morning's hoarfrost in McCall is making the willows appear more like woolly mammoths. A beautiful and frosty start to the morning at a mere minus-1 degree. ~Photo by Julie Conrad. Reach: 46,534.
Fifth
12/16: A beautiful, clear wintry day on the Teton River. ~Photo by Anna Kirkpatrick. Reach: 35,945.
November 16 to December 15, 2018
First
11/21: Autumn's "last hurrah" was a mere two weeks ago in McCall on Payette Lake. I don't believe I've ever seen such a beautiful fall in McCall as this year's! ~Photo by Julie Conrad. Reach: 37,381.
Second
12/13: A Palouse sunset near Moscow during the year's first snow. ~Photo by Jeevan Jalli. Reach: 30,273.
Third
12/10: We love our beautiful, little town!!! Downtown Council looks as if it's right out of a Hallmark movie! It is absolutely magnificent—as are the people here! ~Photo by Susan Adams. Reach: 30,2017.
Fourth
11/23: The sunsets always enhance the "magic" reputation of the Magic Valley. Snuggle down for a good night! ~Photo by Sharon Breshears. Reach: 27,122.
Fifth
11/27: Downtown Caldwell has its game on for the holidays! And, while you enjoy your virtual stroll through the lights, here is one of my all-time favorite Christmas albums. I bought it for myself in 1965, and it still ranks right up there. https://www.youtube.com/watch?v=CuIn95h10ZQ ~Photo by Michelle Chadd. Reach: 23,692.
October 16 to November 15, 2018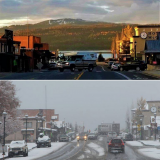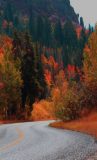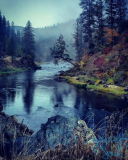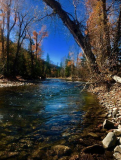 First
The weather can change FAST in a mountain town. The first photo was taken October 30th in downtown McCall. The second photo was taken on October 31st—less than twenty-four hours later! ~Photos by Julie Conrad. Reach: 104,224
Second
10/29: The South Hills aren't giving up on fall just yet! They still have more surprises coming our way. ~Photo by Sandra Salazar. Reach: 50,123
Third
10/16: It's either a page from a storybook or along the Clearwater River in the fall. Either way, it's breathtaking. ~Photo by Serena Jacks-Jackson. Reach: 44,655
Fourth
Mountain paradise as the fog lifts and the clouds part! Grand Mogul. ~Photo by Dennis Manhart. Reach: 31,653
Fifth
The Bigwood River north of Ketchum on a sparkling, brilliant fall day! ~Photo by Jason Will. Reach: 24,669
September 16 to October 15, 2018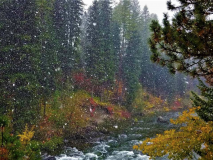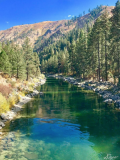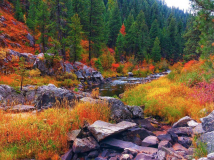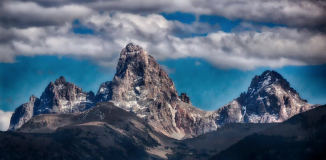 First
10/10: The first snowfall of the year in McCall was yesterday morning where it collided with the autumn colors along the river. ~Photo by Julie Conrad. Reach: 83,274
Second
10/15: Along Highway 55 near Banks ~Photo by Kandi Gumm. Reach: 66,170
Third
10/9: Standing on the bridge at Highway 55 looking up Highway 17, aka Banks/Lowman Rd., South Fork of the Payette at Banks. ~Photo by Stacy Ross. Reach: 48,439
Fourth
10/7: Fall color is at its peak along the Little Salmon River between Meadows Valley and Pinehurst. ~Photo by Erik Kaminski. Reach: 46,557.
Fifth
10/7: The Tetons are starting to put on their October spectacle. Magic Valley Camera Club
~Photo by Kevin Oliverson. Reach: 43,645.
August 16 to September 15, 2018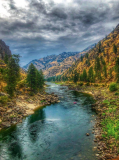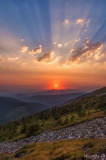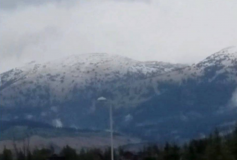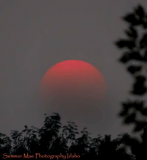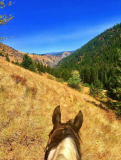 First
8/30: The Salmon River off the Manning Bridge east of Riggins. ~Photo by Erik Kaminski. Reach: 84,330
Second
8/25: Bloom Peak in the Shoshone Mtn Range. Wishing you a magnificent good night! ~Photo by Kari Ell. Reach: 59,213
Third
8/28: Guess what???? It's snowing on the Teton Mountain Range east of Driggs! September isn't even here yet! ~Photo by Kerry Buxton. Reach 42,425
Fourth
8/23: Wonder why it's so dark all day lately? Here's the sun sinking into the smoke layers in the Treasure Valley last night. ~Photo by René Kaiser-Riley. Reach: 26,045
Fifth
8/21: Some say the best way to see Idaho is between a horse's ears. Central Idaho ~Photo by Erik Kaminski. Reach: 25,931
July 16 to August 15, 2018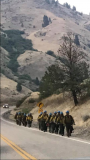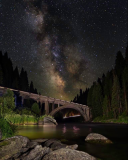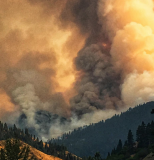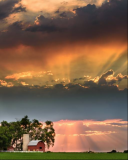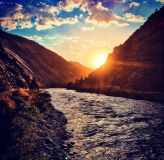 First
This is raw beauty. This was taken south of McCall, Idaho on Highway 55. We waited almost an hour to pass. Once we were piloted through, we saw these amazing wildland firefighters that had just come down from the mountain. I caught this image with my iPhone in between the defrost strips of our truck's back window! It was more than 100 degrees yesterday, and they spent another long day out fighting the fires! Thank you!!! ~Photo by Desirae Beason. Reach: 252,569
Second
Have had this shot in mind for quite awhile now. Here is the Milky Way over the Rainbow Bridge on Hwy 55 just north of Smith's Ferry. Built in 1933 it is the largest single span bridge in Idaho and is listed in the National Register of Historic Places. Designed by Charles A. Kyle, it cost $74,000. Part of a major effort by President Franklin D. Roosevelt to combat economic crisis, the Idaho Bureau of Highways received $8 million dollars between 1933-1934 for emergency road projects. Hwy 55 still had a gravel section as late as 1938. Here is a link for Thom if you're looking for a print. He owns all rights to the photo, so please go to him directly. https://www.thomueckerphotography.com/ ~Photo and information by Thom Uecker. Reach: 56,727
Third
The Rattlesnake Creek fire, located on the west side of Highway 95 near mm 184 and south of Pollock in the Nez Perce National Forest, was reported shortly after 12:02 p.m. yesterday. If you're going through that area, be sure to check for updates before you go. https://inciweb.nwcg.gov/incident/5999/ ~Photo by Debbie Kane Napierskie. Reach: 55,559
Fourth
A remarkable sunset in Kimberly. Magic Valley Camera Club. ~Photo by Clint Moerer. Reach: 44,879.
Fifth
The sun sliding along the Main Salmon near Riggins, kissing "good night" to the hills along the way. ~Photo by Debbie Kane Napierskie. Reach: 37,195.
June 16 to July 15, 2018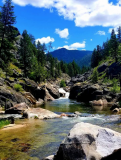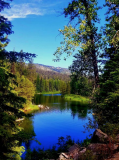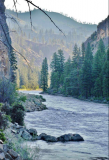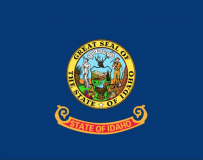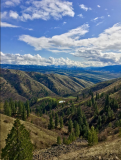 First
6/26: Heading up toward Lick Creek Summit near McCall. ~Photo by Julie Conrad. Reach: 69,424
Second
7/15: A lazy day on the North Fork of the Payette River. ~Photo by Julie Conrad. Reach; 49, 943
Third
7/11: The Salmon River winding along near Shoup. ~Photo by Lisa Sullivan. Reach: 33,745
Fourth
7/3: HAPPY BIRTHDAY, IDAHO! We're 128 years old today, but we don't look a day over 127, right? Thank you President Benjamin Harrison. Our population on July 3, 1890, was 88,548. By the time of the Centennial in 1990 it was 1.012 million, while today it is 1.717 million. Who remembers the Centennial just a few years ago…well, ok, 28 years ago, but time does fly? What did you do to celebrate? ~Photo public domain. Reach: 26,533
Fifth
7/9: A spectacular summer view from the top of White Bird Grade. ~Photo by Erik Kaminski. Reach: 24,093
May 16 to June 15, 2018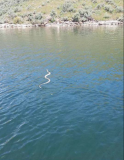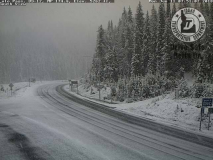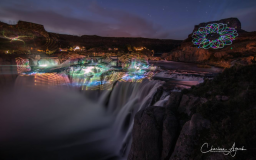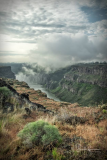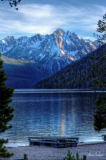 First
6/12: Rattlesnake in Magic Reservoir the other day! I have a post with this pic and many locals say they've experienced rattlers in the reservoir and they're aggressive! They'll chase after you and try to crawl up your boat and legs, etc! I had no idea and I've had my kids swimming in there for years! I'm trying to let people know—wish I had known yrs ago, I wouldn't have had my toddler at the time swimming around in there! ~Photo by Carolyne Goff. Reach: 145,821.
Second
6/11: Taken today (by Idaho Transportation Department) at 7:51 a.m. at 5,262 feet level on Lolo Pass. Thanks for sharing! Anybody up for a drive? ~Sent in by William Swanson. Reach: 124,090
Third
5/20: The laser light show at Shoshone Falls ran for three nights last week. They're hoping to make it an annual event. ~Photo by Charlene Aycock. Reach: 65,764
Fourth
5/22: Early morning in the Snake River Canyon. ~Photo by Sharon Breshears. Reach: 38,256
Fifth
6/11: Despite the gorgeous hues in the photo, you can't be blue at Redfish Lake. ~Photo by Sharon Breshears. Reach: 29,706
April 16 to May 15, 2018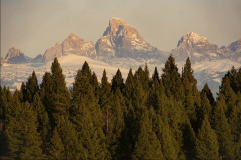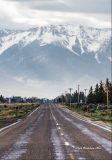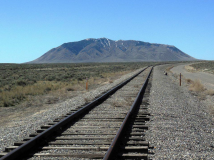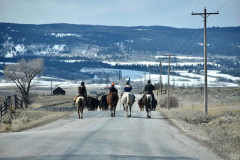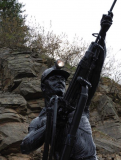 First
5/15: A priceless view of Idaho's side of the Tetons from the Mesa Falls Scenic Byway. ~Photo by Mike Terry. Reach: 36,948
Second
5/12: The Lonely Road – this in the Big Lost River Valley. ~Photo by Link Jackson, linkjacksonart.com Reach: 29,050
Third
4/23: Big Southern Butte in the Idaho desert east of Arco. Few will remember 16-inch naval rifles manufactured at Pocatello that were railroaded here for proof firing into the side of the butte during WWII. ~Photo by Dick Morris. Reach: 17,684
Fourth
4/30: Another of those darned traffic jams. Driggs.~Photo by Anna Kirkpatrick. Reach: 17,225
Fifth
5/2: The Sunshine Mine accident took place 46 years ago today. This monument is near Kellogg, placed in memory of the 91 lives that were lost that day. ~Photo by Lindy Bauer. Reach: 15,503
March 16 to April 15, 2018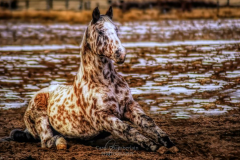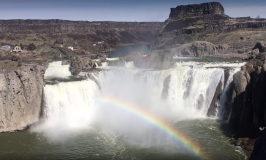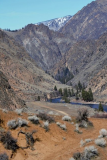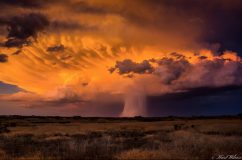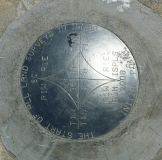 First
3/27: This beautiful polka-dotted horse is Mr. B, a 34-year old registered Appaloosa who belongs to my sister. He is perfectly camouflaged for this time of year! ~Photo by Carol's Pictures, carolspictures.smugmug. com Reach: 34,549
Second
4/8: Shoshone Falls is having another banner year! This was today. ~Video by Colin Randolph. Note: this video is similar to the one posted on the magazine's Facebook page—Colin had to take down the actual video, because it was so popular that it overloaded his server, and it also was very popular on our site until then. Reach: 29,777
Third
3/25: Bernard Airstrip at Impassable Canyon on the Middle Fork on the River of No Return, in the Frank Church Wilderness. ~Photo by Lisa Stewart Sullivan.
Reach: 20,716
Fourth
3/16: Thought you might like these. Supercell with a hail core and Mammatus clouds are probably my most favorite clouds. I wanted to get under the birds but couldn't quite manage it as the sun was setting fast, they were in a hurry to head out. This was near Minidoka. ~Photo by Kurt Wilcox. Reach 19,899
Fifth
3/24: If you're standing here, where in the world are you, and what does it mean? ~Photo by Bob Manzer. Reach: 17,980
February 16 to March 15, 2018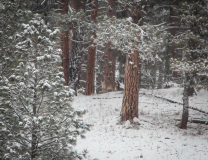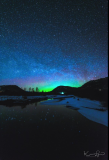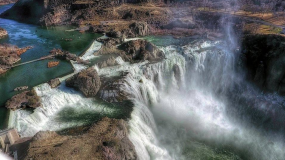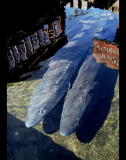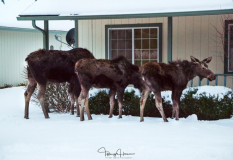 First
2/27: Caution! Kitty cats on the prowl. I ran into these cougars over the weekend just south of the Grandjean pullout. I had my tripod set up taking photos of the river, the dog was doing her thing and we had been out there for close to an hour. The big cat caught my eye first, so I took these pictures then realized I had my 10-22 (wide angle) lens on. I dropped my pack to get my 24-105 out and the big one came down the ridge towards us. I freaked out, yelling at my dog who thought I was playing a game and running all around. Ooohh, I could have beaten her. I got her safe and looked back and they were gone. The encounter was short—but absolutely incredible. ~Photos by Tyler Lambert. Reach: 17.223
Second
3/11: Aurora Borealis winks and dances along the horizon at Pack River.
~Photo by Kari Ell. Reach: 14,309
Third
3/14: A drone's eye view of Shoshone Falls over the weekend.
~Photo by Kevin Oliverson. Reach: 14.005
Fourth
2/27: A couple of sturgeon investigate the photographer near Hagerman.
~Photo by Michelle Chadd. Reach: 13,911.
Fifth
3/1: Sometimes you have to go looking for wildlife. Sometimes it comes looking for you.
~Photo by Tiffany Hansen. Reach: 13,376.
January 15 to February 15, 2018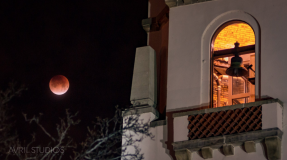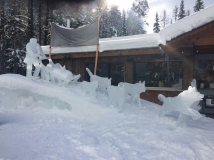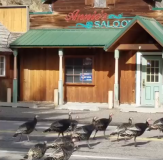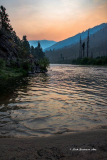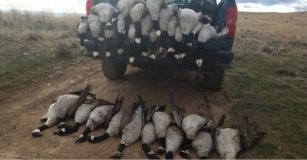 First
1/31: The "Blood Moon," Blue Moon and lunar eclipse as seen from the Boise Depot in the wee hours today. ~Photos by Dave Morales, Avril Studios. People reached: 54,361.
Second
1/29: Sad news from McCall's Winter Carnival: this beautiful ice sculpture of a musher and dogs was destroyed in the middle of the night this past weekend by thoughtless clods who doubtlessly thought they were pretty clever. We are happy to have a photo of it to remember its beauty. I thought the lead dog beautifully captured the joy of sled dogs doing what they love. ~Photo by Carol Lewis. People reached: 43,193
Note: This same photo was posted earlier in the month, before the vandalism, and reached 28,857 people.
Third
1/29: There was a terrible traffic jam in Albion last weekend. Be careful if you're traveling through the area. ~Video by Carol Warr. 39,941 partial and full views.
Fourth
2/10: Sunrise on the beach. Middle Fork of the Salmon River ~Photo by Link Jackson. People reached: 22,962.
Fifth
2/7: Waterfowl dumped near Kuna Butte. Your help is needed with this investigation. Someone knows who did this – maybe you? Idaho Fish and Game Southwest Region. People reached: 16,662.