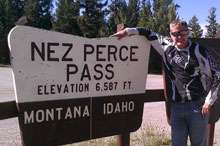 The Magruder Corridor. Every serious adventure motorcyclist in Idaho knows the name. A must-do ride, it starts about seventeen miles out of Elk City, which has the last gas for more than 130 miles to Darby, Montana.
Extending through the Frank Church–River of No Return Wilderness and the Gospel Hump Wilderness, the road is literally a corridor, open for a short window of time when the snows have melted around mid-July until they return in October. Based on the old Nez Perce Southern Trail, the corridor became frequented by miners and travelers during the Gold Rush days of the early 1860s. It is named after Lloyd Magruder, who in 1863 was ambushed and murdered on the trail by robbers posing as friendly travelers.
I've had a passion for motorcycle riding and exploring since my boyhood in Pocatello. I was eight in 1975, when I learned to ride my Aunt Sandra's Indian 80. I rode that bike as much as possible over the next nine years, exploring the roads and trails from Pocatello Creek to Inkom. For three years, a couple of buddies and I had planned to ride the Magruder. In 2012, we were on the doorstep in Elk City before a mechanical failure caused us to abort the mission. In 2013, our August trip was torched by forest fires. This year, we enlisted a couple more guys and moved up the schedule to late July, hoping to avoid fires and snow. Our plan was to ride the Magruder to Montana, and then to loop back to Idaho on the Lolo Motorway. I began researching the motorway, and liked what I learned. It's a historic route following roughly the same Nez Perce trail that Lewis and Clark traveled on their voyage to the Pacific Ocean in 1805. Research materials described it as a "narrow, rocky and steep" dirt road over more than a hundred miles through the forest. That's an ideal description for adventure motorcycle terrain.
Adventure motorcycles—or dual sports as they are often called—are street-legal motorcycles built for off-road riding. They vary in engine size, weight, and off-road capability. I chose a 250cc motorcycle for this trip while three of my riding companions were on 650ccs and one on an 800cc. I would have to push my bike harder to keep up with the big bikes on the paved highways, but it would more than compensate when the road turned to dirt. Continue reading →