An Old-Fashioned Winter
When It was Really Cold
By Marylyn Cork
Photos Courtesy of Marylyn Cork
As I walked into my Priest River pharmacy on a snowy day during Christmas week 2015, a longtime resident greeted me with a beaming smile and the words, "We're having an old-fashioned winter!"
Not everyone was as happy about it as she, but some of us at that point were trying to regard a series of heavy snowfalls as next summer's water. Having just come through an overly long and hot, dry summer of drought, forest fires and smoke, no one was looking forward to a possible repeat in 2016.
We got a little more than we bargained for, however. The snow continued through December 24, and none of the guests I had invited to my house for our family's annual Christmas Eve celebration was able to make an appearance. Side roads were blocked or nearly so, plowed pavement was slick, and I was the only one who still had electrical power.
Thousands of homes were still without electricity on Christmas Day, and some for another day after that, adding insult to the injury sustained earlier in the fall. Residents in northern Idaho and eastern Washington had endured ten days or more over Thanksgiving with no electricity after two powerful windstorms tore through the region on November 17 and in early December. Some homes had been damaged so badly by falling trees during that time that electrical service to them had not yet been reinstated. While such powerful windstorms happen occasionally, they usually don't deliver such an immediate one-two punch.
By Christmas Day, according to the weather bureau, more snowflakes had piled up during the week of December 25, 2015, than in the entire preceding winter. Throughout the fall, the official prognostications were that a strong winter weather system would very probably deliver a whopping amount of precipitation, although the experts had said it could come as rain or snow, and rain seemed more likely.
A few days after my visit to the pharmacy, I made my way back to town to compile the weekly "Looking Back" column I've been doing for years for the Priest River Times newspaper and, by chance, I happened upon the following story. It not only proves that winter weather can never be taken for granted in northern Idaho, it also brought back memories of my own experiences battling the elements in seventy-odd years of living here.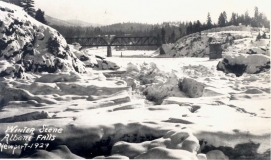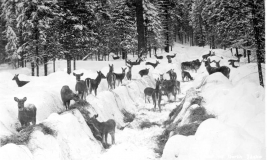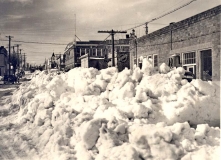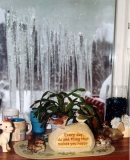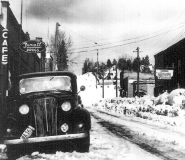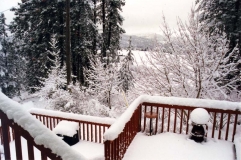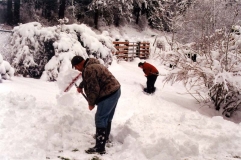 "Old-Fashioned Winter Freezes Valley" read the headline of a 1969 account of hard times related by Kathryn Hamshar, one of my predecessors at the newspaper.
"The Priest River Valley has had a jolting reminder of the good old days with the numbing and unaccustomed intrusion of Arctic air, which sent the thermometer plummeting to minus 22 degrees Saturday night and minus 36 degrees Sunday night.
"Frozen water pipes, immobilized autos, paralyzed machinery, and canceled holiday plans were the order of the day. A power outage Tuesday morning on the East Side added to the general discomfort for several hours."
I remember those days well. During the winter of 1956-57, my husband and I and our first-born, then an infant, had moved from our home outside Priest River to a drafty, uninsulated wood frame house at Careywood to the south, to be closer to my spouse's job, since the commute was arduous. Our bedroom in that house was located off a long hallway as far from the wood stove in the living room as it was possible to get. I stumbled out of bed one frigid night to warm my baby's bottle on an electric hot plate, and discovered it sitting in a pan of water that had frozen solid all the way to the bottom of the pot.
I remember another time a few years later when the water froze up to our Priest River home shortly before Christmas. This would have been in the early Seventies. Fortunately, water was flowing yet in the creek near the house, under several inches of ice that had to be chopped through before we could haul it inside. My elder daughter was a young teen at the time. I was totally amazed at how many different chores that girl could pull off by utilizing one bucket of water over and over, always ending by flushing the toilet with it.
Let me tell you, there is nothing worse in a modern home than being dependent on an inside toilet!
"Old-timers were better prepared for this kind of weather," the writer of the 1969 story asserted. "Supplies were laid in early to last all winter—a barrel or two of flour, a barrel of apples, a couple of hundred-pound sacks of sugar, bags of oatmeal and bottles of cough medicine, plus a few 'frills' to go along with the home-canned and cured meats, fruit and vegetables. The woodshed was stacked to the rafters with dry blocks, which roared and crackled in the big stoves. Each home was a sealed unit, self-sufficient and secure. A trip to town, which was an exciting expedition, involved many hours with team and sled for those living out in the hills."
Growing up a few years later than the above writer did, I never knew quite such conditions. There were times we were bottled up at home, but never for an entire winter. We didn't go out often during the winter of 1949-50, however, not even to school. I remember attending my rural school for only five days during the month of January. The state had to send in rotary snow plows to break through a huge drift filling a cut on Dufort Road between Highway 95 and my family's driveway. We eighth-graders at Westmond School, a two-room elementary, attended on Saturday mornings the following May in order to pass the tests we had to take to be graduated into Sandpoint High School.
"Housewives used 'starter' for home-made bread," my predecessor wrote, saving out some from each batch for the next week's baking.
"When water pumps froze, snow was melted in big dishpans or tubs on the stove. Many a bath was taken in heated snow water, and it wasn't too unusual to scrub the floor afterward with this same precious water.
"Windows were a fairyland of frost. Steam from drying clothes, from soggy mittens, from kettles on the stove, all contributed to the buildup of icy patterns, admired and traced with chilly fingers by the children.
"Modern dependence on the grocery store, on electrical appliances and mechanized locomotion makes unusually low temperatures a peculiar kind of hardship which was unknown to previous generations.
"How many over-forties recall one inevitable annual event: the shock and pain to the dummy who stuck his tongue on the frosty pump?" (This is a familiar memory, too, from my days as a student in the 1940s.) "Who remembers to this day the taste of the wool scarf his mother wound around his face until only the eyes were exposed, before leaving for school? No wonder the astronauts' gear seems so familiar—that's how we looked after we were all bundled up for a walk or to play outdoors. Any present-day school kid forced to wear warm clothing from head to foot would commit hari-kari.
"If the reader's recollections of schooldays includes a one-room schoolhouse, he will no doubt remember the warmth near the stove and the radically increasing chill toward the outer perimeter."
At Westmond, two five-foot-tall black, wood-burning sheet-metal behemoths were aligned along the north wall of the large room that became two rooms when a curtain divider was pulled. I was in the "Big Room" for grades four to eight, and not a tractable child at times. Thus, I was occasionally punished for misbehavior by being sent behind the stove to reflect on my sins. It was the only cozy spot in the room. I also often tutored a younger child in her spelling lessons behind that stove.
"And of breaking the ice in the water pail to get a drink with the tin dipper. Once there was a teacher who, disapproving of the dipper, brought a glass to school. Henceforth the water was dipped into the glass—and everyone drank out of the glass."
At Westmond, we all used the same tin dipper.
"The teacher had to shovel off the steps, keep the fire stoked, and shovel a trail to the outhouses out back, unless there were some husky boys in the upper grades. She also had to carry in the drinking water from whatever source was available, and then there was the little matter of acting as doctor or nurse when the occasion arose, treating ailments ranging all the way from frozen ears or noses to colds, flu and appendicitis.
"Kids walked to school unless there was a howling blizzard or an epidemic. The luckiest ones lived only about a half a mile away. Some walked four. Maybe there was no rioting in those days because they were just too tired."
We children on that section of Dufort Road and Highway 95 were all transported to school, first in an old green panel truck with a long wooden seat running down each side, driven by an elderly neighbor who didn't hear well and who, we claimed, was also "blind in one eye and can't see out of the other." I remember going into the ditch only once, however. Later our "school bus" was an old panel truck driven by the stepfather of one of our classmates.
Waiting for the bus to arrive at our stop, even when I was in high school, after school consolidation and the arrival of a real school bus for transportation, was no picnic, since the bus was often late. My paternal grandfather nailed together a frame shelter reminiscent of an outside toilet (which none of our homes were equipped with at that point), by our mailbox, so my sisters and I could get out of the snow and wind and rain. It was bone-chillingly cold, but better than nothing. For me, it made a convenient place to shed the nylon stockings my mother insisted I wear to high school where the town kids all went barelegged.
In grade school, we girls went clad in one-piece underwear suits that had short sleeves and legs, and ugly, brown, full-length cotton stockings held up by homemade garter belts. Some of our classmates were less fortunate. They had to wear the stockings over regular long underwear like that worn by the boys. Of course, thus clad, their legs looked baggy and lumpy.
We all survived the transport, the weather, and the schooling, and I for one think I acquired a pretty darned good education out of the deal.
Life is easier now for rural residents and also for those who live in town, but northern Idaho winters are often snowy and inconvenient even if they aren't as cold as they used to be. In view of the unusually hot, dry summers happening now, I try to appreciate the beauty of a snow-cloaked countryside and not complain, because I know that ample snow means enough water to get us through the coming summer.
That stormy December of 2015 morphed into probably the mildest winter I remember in this country, with little more in the way of snow and no frigid temperatures. The following winter was described as "harsh" by some, but I don't recall that.
However, heavy snow on November 2-3 this year shocked everyone by its early arrival. I wasn't able to get to town for four days because the county's usually excellent and prompt snow removal efforts of late failed (perhaps the road department was as surprised by the suddenness of winter's descent as the rest of us). A strong La Nina building in the Pacific Ocean bodes ominously for the remainder of the season. If we end up receiving dumps up to our hips, it won't be the first time, but we'll appreciate all that snow when summer comes.