An Old-Fashioned Winter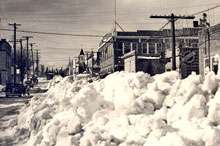 When It was Really Cold
By Marylyn Cork
Photos Courtesy of Marylyn Cork
As I walked into my Priest River pharmacy on a snowy day during Christmas week 2015, a longtime resident greeted me with a beaming smile and the words, "We're having an old-fashioned winter!"
Not everyone was as happy about it as she, but some of us at that point were trying to regard a series of heavy snowfalls as next summer's water. Having just come through an overly long and hot, dry summer of drought, forest fires and smoke, no one was looking forward to a possible repeat in 2016.
We got a little more than we bargained for, however. The snow continued through December 24, and none of the guests I had invited to my house for our family's annual Christmas Eve celebration was able to make an appearance. Side roads were blocked or nearly so, plowed pavement was slick, and I was the only one who still had electrical power.
Thousands of homes were still without electricity on Christmas Day, and some for another day after that, adding insult to the injury sustained earlier in the fall. Residents in northern Idaho and eastern Washington had endured ten days or more over Thanksgiving with no electricity after two powerful windstorms tore through the region on November 17 and in early December. Some homes had been damaged so badly by falling trees during that time that electrical service to them had not yet been reinstated. While such powerful windstorms happen occasionally, they usually don't deliver such an immediate one-two punch.
By Christmas Day, according to the weather bureau, more snowflakes had piled up during the week of December 25, 2015, than in the entire preceding winter. Throughout the fall, the official prognostications were that a strong winter weather system would very probably deliver a whopping amount of precipitation, although the experts had said it could come as rain or snow, and rain seemed more likely.
A few days after my visit to the pharmacy, I made my way back to town to compile the weekly "Looking Back" column I've been doing for years for the Priest River Times newspaper and, by chance, I happened upon the following story. It not only proves that winter weather can never be taken for granted in northern Idaho, it also brought back memories of my own experiences battling the elements in seventy-odd years of living here.