Potato Hotcakes/Hollister Pancakes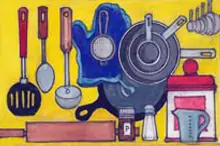 By Amy Story Larson
Ustick Farm Potato Hotcakes
INGREDIENTS
2 cups cold mashed potatoes
1 1/2 cups flour, more as needed
1 cup grated Grand Cru or shredded Cheddar cheese
1 tablespoon chopped chives or ½ c green onion
2 eggs, beaten
1 cup Black Forest ham, diced
1/2 sweet onion, minced
1 clove garlic, minced
1 teaspoon salt
1 teaspoon black pepper
Optional: pinch of cayenne to optimize flavor
Oil of choice for frying
PREPARATION
> Combine mashed potatoes, flour, cheese, and eggs in a large bowl.
> Leftover mashed potatoes work here, so long as enough flour is added in to make the mix the proper texture to create a patty that doesn't stick to fingers. Add in more milk or flour as needed to achieve this.
> Once your dough is the right consistency, stir in the ham, onion, garlic, salt, and pepper.
> Prep a large skillet with a conservative amount of oil over medium heat.
> Create a palm-sized patty of the dough and rest it in the skillet. Turn over after a couple of minutes, shooting for a golden brown.
> Can be topped with more chives, shredded cheese, or even a dollop of sour cream. Serves about 12.
NOTE: At a certain point on Ustick Road in Boise between Five Mile and Cloverdale Roads, you can look down at the sidewalk and see evidence of the township platted in 1907. Due to its early Boise Valley Railway Trolley system, the area prospered. Deemed a "trolley suburb" and "farming hamlet", long time locals have recently recounted stories of "flapjacks" on a Saturday morning at Grandma's on Ustick Road.
Ustick means a lot to my family. My sister, Laurel, met her husband, Lloyd, when they both worked at a grocery store near its Five Mile intersection. For years, my sisters and children have frequented the ice cream parlor there, where the city of Boise later allowed me to display my "ice cream ladies" art on the nearby traffic box.
I didn't grow up near Ustick, but those sharing memories with me made me yearn for a simpler time when grandmas made grandkids breakfast. It also made me want a stack of flapjacks.
Happy Hollister Cake Pancakes
Ingredients
1 ¼ c. all-purpose flour
1 box (15.25 oz) Betty Crocker™ SuperMoist™ yellow cake mix
1 Tbsp. sugar
¾ tsp.baking powder
Pinch of salt
2 large eggs
1 tsp. vanilla extract
1 tsp. almond extract (optional)
1-2 cups heavy whipping cream or milk
Assorted sprinkles, chocolate chips…use your imagination! (Nuts? Shredded coconut? Dried fruit or fresh berries?)
GLAZE Ingredients
1 c. powdered sugar
1 Tbsp. milk
½ tsp. vanilla
Assorted sprinkles
2 Tbsp. butter, softened
PREPARATION
> In a large mixing bowl, combine cake mix, flour, baking powder, sugar, and salt.
> Add in 1 c. heavy whipping cream or milk, eggs, extract, and stir well. Add more cream or milk for pancake batter consistency, or more cake mix or flour as needed to thicken. Heat a large frying pan over medium heat. If you want sprinkles in the batter, now is the time to add them in.
> Use a ¼ c. measuring cup to measure out pancakes. Bubbles on the surface will let you know it's time to flip them, usually a couple of minutes.
> Ridiculously Yummy Glaze: Combine powdered sugar, butter, vanilla, and milk, stirring well. Then liberally drizzle over the pancakes.
*Adapted from How Sweet It Is (Cake Batter Pancakes)
NOTE: For years, we'd go with Grandma Roma to Lund, Nevada, where they owned a ranch. During the heat of the summer, Grandpa Jim's van led the caravan through Twin Falls to the little town of Hollister, where we'd stop with horse trailers, toddlers, and maybe take in a snack or two.
Once stopped, Grandma Roma always said the same thing. "Happy Hollister!" Each time, it was endearing, and a fitting name for some sweet, comfort-inducing, celebratory-style pancakes.