A Polar Plunge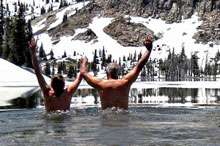 Our Annual "Great Adventure"
Story and Photos by Alice Schenk
On May 28, 2009, my husband Wayne and I packed a picnic lunch and hiked into Lake Cleveland before the road opened. Cleveland is an alpine lake in Cassia County's Albion Mountains in the Sawtooth National Forest. We parked at a locked gate and hiked more than four miles. It was a beautiful day, sunny and warm. The pine smelled fresh and intense. Going in across country, we trudged through several snowdrifts, and when we reached the road that twisted down around to the lake, it was snow-covered. The mountains surrounding Lake Cleveland displayed patches of green trees amid snow everywhere else. It was stunning. The lake itself was about two-thirds covered in snow and ice: a perfect photo op. And I was ready, with my swimsuit on underneath my hiking clothes.
Getting into the lake and going under (twice, because we skinny-dipped once) took my breath away, literally. But breathtaking opportunities like this come along only once in a while, and I try to make the most of them, for I know they will be unforgettable. As the saying goes, "Life is not measured by the number of breaths we take, but by the moments that take our breath away." I didn't swim in the lake, though. I waded out until it was about chest-deep, went under, and came running and screaming my way back to shore, because it was very, very cold! Wayne's photographic timing was excellent. The water looked like it was agitating in a washing machine and the snowcapped mountains in the background were magnificent.
That was the beginning of our annual plunge into Lake Cleveland, which we now call our "Great Adventure." It's the kind of experience that builds on itself, one sprawling story after another. Every trip into the lake is different, sometimes dramatically so, and the good stuff is in the details.
Walking into a freezing lake is the best-worst feeling in the whole world. It's exhilarating because it seems like it's beyond your ability. And frightening, for the exact same reason. And cold. Very cold.