A Troublesome Sort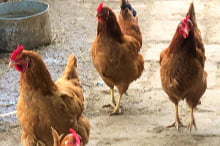 But Memorable
By John M. Larsen
Bernice sounded extremely nervous when she told me on the phone that her neighbor Donna had just said to her, "Thursday: this is the day I kill you."
Donna's threat apparently arose because Bernice's husband Rich had once been Marsing's mayor. He also had done city maintenance work, which had included spraying herbicide on the banks of an irrigation ditch that divided Bernice's and Donna's properties. That was a couple of years earlier, and Donna later had been stricken with a problem that affected the circulation in her lower legs, which caused them to turn slightly purple.
She not only was convinced this was because of Rich's herbicide, but believed that his attachment to government meant he was one of "them." I think it was very unlikely that her problem was caused by the herbicide, but when Rich passed away the next year, his death only added to her suspicion. She decided to seek vengeance against Bernice.
At the time, I was the city's maintenance supervisor, which is why when Bernice called the mayor, he called me. I remember when I first interviewed with the mayor for the job, I told him I had operated a backhoe, laid water and sewer lines, installed septic tanks, and maintained various types of pumps. He peered over his glasses at me and said somberly, "Oh, that's the easy part of the job. The hard part is the people."
He knew what he was talking about. For example, I soon had to contend with a citizen who seemed to have been born angry and another who was hired to haul city garbage to the dump but often wanted to keep it rather than dump it. Donna was another in the list.
She was about five-foot-three, squarely built, and appeared to be of Latino heritage, although some townsfolk speculated she was part Gypsy. She often appeared in public wearing heavy makeup with crimson lipstick. She had her hair in a beehive, a 1960s style that she was wearing in the 1990s. I don't know why she thought "they" were after her.
In 1980, when my mother was a census taker, she tried to interview Donna, who refused to give much information. My mother was a college graduate who had taught school in Marsing since 1942 but Donna let it be known that she thought Mother was a CIA agent—another of their spies.
That year, Mother also interviewed a wealthy rancher named Emmet who owned large tracts of land. Donna claimed to be this rancher's wife and when Mother asked Emmet about it, he said he had purchased the house that she lived in, which had been put in her name.
Donna claimed Emmet's surname and evidently considered herself to be his common law wife. Emmet did not verify this claim. Mother told me she came away from the census-taking with the impression that Emmet did not claim her as his wife and did not really want to discuss the subject.
Curious about all this, I checked with the county recorder's records, which showed she acquired the property in 1978 and that her first name was followed by three surnames. The women at city hall said it was rumored that one of these surnames was her real married name and she had never had gotten a divorce from her first husband.
It is a Spanish custom to have your mother's maiden name as your last name, so that would explain one of the surnames.
When Emmet passed away, Donna said she had a copy of his will but did not want to give it to his family. I checked with the family and they had little to say about her relationship to him, although they assured me she was not a family member. Eventually, she did produce the will and any financial matters were resolved.
Despite Donna's several names, she was known around town by the nickname she had acquired: Goat Lady, as she had several goats on the one-acre property. At first she had sheep but they were never sheared, and their wool dragged on the ground. Sheep do not shed their coat like most animals, so it just keeps growing. The story goes that when one of her sheep died, the wool was so long that the sheep didn't fall over.
My stepson Rick Jenkins was studying photography at Boise State University at the time and had come out to see us, One morning, fog from the river drifted across Donna's place which fronted the Bruneau Highway. When he drove by, the fog parted just enough that a ray of sunshine illuminated a sheep. Rick saw the opportunity for a photograph. He stopped, slipped through the fence and snapped one picture when a voice screamed, "Get off my property!"
Donna emerged from the mist with a twelve-gauge shotgun. Rick was only too happy to leave.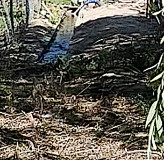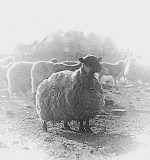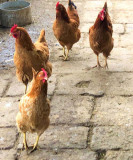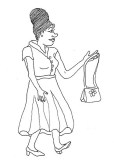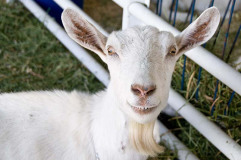 Donna's neighbors became concerned about the potential hazard to her sheep from their long wool and when someone finally took them for shearing, they brought back goats that do not need to be sheared. Before long, Donna became known as the Goat Lady.
Rick's experience with Donna was not out of the ordinary, as she was quite territorial about her property and wasn't kind to trespassers. For example, a family on a street that bordered her domain had two young daughters who wandered around the neighborhood.
One day the girls came home wailing and in tears because Donna had caught them walking on her property and had put a curse on them. They were so upset that their mother brought them to Donna, who made them confess their sin and promise to never trespass in the future before she would produce her crucifix and remove the curse.
Her neighbor Bernice continued to have trouble with Donna even after the herbicide issue. The main source of continued irritation between the two was Donna's chickens. At the time, the city ordinance allowed a citizen to have twenty-five chickens. Donna had about seventy-five, which she never fed. They grazed wherever they could, which often was in Bernice's garden.
One night at about 10 p.m., Bernice called the mayor to complain. As soon as she hung up the phone, he called me. I called the deputy sheriff, who decided we should address the problem at 2 p.m. the next Wednesday. When the time arrived, fellow city worker Jesse and I went along to Donna's place with the deputy. No one answered the door, so we set about catching the chickens.
For those who are unfamiliar with the challenge involved in such a venture, chickens do four things very well: eat, poop, lay eggs, and not get caught. In daylight, chickens can really run.
Our operation failed miserably. Grown wiser from the experience, we decided to get the chickens at night, after they had gone to roost. Again, we brave men sallied forth to face the Goat Lady and her pesky flock of birds. The deputy was in charge and Jesse, another employee, and I were his back-up. He approached her door and after a brief conversation with her, he returned to us and reported, "If we take her chickens, she's going to sue."
"Sue for what?" I asked. "The city ordinance allows for twenty-five chickens and she has about three times that many. Even if she sues for the value for the loss of the chickens, they're only worth about a buck apiece. I'll personally pay for those damages."
"I'm going to have to check with the sheriff," the deputy said. And we retreated.
With the sheriff's sanction, we formed again the next week. This time we had two deputy sheriffs, several sheriff posse members, and our city brigade. We approached in the dark of night, with flashlights and lanterns. If we had had pillowcases over our heads, we could have been mistaken for Klansmen. No longer afraid of the Goat Lady or her lawyer, who the chief deputy considered to be of dubious competency, he knocked on the door.
She opened it a crack and he informed her that we were taking the excess birds. The deputy sheriffs and the rest of us marched onto the property and began snatching chickens from the shed, the trees, and wherever else they roosted.
We reduced the flock to the allowable number of twenty-five. The chief deputy made Donna promise, in front of witnesses, that she would not exceed the legal number in the future and would maintain the fence so the birds would not go outside her property. Also if she did not stop threatening Bernice with physical harm, he would come back and arrest her.
We marched off with the captured chickens in custody, flushed with the pride of accomplishment that comes when men, brave and true, persevere to chalk up a victory well won.
Three nights later, my phone rang. It was the mayor, who said he had received another call of complaint from Bernice that Donna's chickens were getting into her garden again. We were slow to respond. It seemed to me that Donna was turning into a difficult recluse, and intervention from an outside source was needed.
Donna refused to control the chickens, even as she became increasingly hostile to the townspeople, which came to the attention of Emmet's family. This was in April 1997 and county records show that court action was brought in July. On August 1, the court declared her to be mentally incompetent. An administrator put her property up for sale and it was sold in December of the following year.
The last I heard of Donna, she was involved in an auto accident while returning from the closing sale of her home, which was completed at a title company in Murphy. The accident occurred on Highway 78 and when the first responders loaded her into the ambulance, she refused to let go of a rumpled dog food bag. It turned out she had put the money from the sale into the bag.
I suspect this was a clever ruse so if "they" tried to rob her, they might get her purse but the money would remain safely hidden.
Donna's house has since been torn down and replaced. One reason for this is Donna's city water and sewerage were cut off. She made few appearances in town but occasionally came to a city council meeting and complained about not having these services.
Unfortunately, she was not nearly as religious about paying her bills as she was about putting curses on trespassers. A man doing community service at the house told me she had improvised to address this lack of amenities by chopping a hole in the floor, which allowed her to use the basement as a septic tank.
I drove by her house twice a working day for many years but was never tempted to go in, or to spend a lot of time talking to her. And yet, when the Goat Lady disappeared from the population of Marsing to parts unknown, we lost one of our most colorful and memorable characters.
Of course, Bernice was only too happy to wave goodbye.
If you enjoyed this story, please consider supporting us with a SUBSCRIPTION to our print edition, delivered monthly to your doorstep.