Mary's Place

Is She Still There?
Story and Photos by Mike Medberry
Inside the Hemingway House in Ketchum, I stared past my guide Kelley at a wisp of hair, a body, and a face that peeked out from a corner. The image disappeared.
"What was that?" I interrupted her description of the many remarkable artifacts in the place.
"What?"
"There was a…ahh….something was there." She gave me an odd look. "Maybe not," I said. "Anyway, go on."
I continued to look over Kelley's shoulder while listening intently to her stories of the years when both Ernest and Mary Welsh Hemingway, his fourth wife, lived in the house and the things they'd used or cherished: Ernest's guns and art, his manuscripts and correspondence; Mary's dresses and her hunting vest, a replica of a painting by Cezanne. And then it happened again.
An amorphous figure peeked around the corner and disappeared. It seemed that a transparent being had looked at me from the next room but maybe it was an optical illusion caused by something in Kelley's hair. I wasn't sure. At that moment, we were at the edge of the kitchen and the presence disappeared as quickly as it appeared. It happened, but was I simply seeing what I wanted or expected to see? I don't believe in ghosts. Honestly, I don't.
About twenty-three years earlier, I had nearly died of a stroke while hiking in the nearby Craters of the Moon National Monument and Preserve (see "Moonstruck," IDAHO magazine, February 2013), so I feel that I know something about death. On the other hand, that idea is patently silly: what can anyone know about death? Or about ghosts? Or the life beyond? These are only superstitions. Ask anyone.
The Hemingway House is out Warm Springs Road about a mile from Ketchum. It stands above the Big Wood River and commands a view of the Boulder Mountains in what is now the Hemingway Wilderness. It was built in the same style as the Sun Valley Lodge in the late 1930s, with stained concrete and a stout and manly facade, no filigree. My tour with Kelley was my introduction to the house's interior, although I often had admired the place when I lived in Ketchum as a staff person for the Idaho Conservation League.
The visit with Kelley was because I had been given a great gift from the Community Library in Ketchum: to be their Artist in Residence for the month of November 2022. That title came with a month-long stay in the Hemingway House that carried only two obligations: to give something back to the community and to write whatever I wanted to write.
As my gift to the community, I gave a presentation about how to self-publish a book, and I also chose to give something to the memories of Mary and Ernest Hemingway. I thought Mary had been neglected in favor of her husband and I wanted to underscore that point. After Ernest's suicide in the house, she had brushed up his reputation substantially during the next three decades that she lived in this same house. Clearly, she was the spirit of the place.
I told a few people about my—I don't know what to call them—sightings in the Hemingway House. One woman told me that several years earlier, Guy Bonnivier, then the executive director of The Nature Conservancy in Idaho, stayed in the house a few times and reported hearing hideous, loud sounds and banging on the pipes. When he looked for the source of the noises, he found nothing, but the sounds continued.
Guy was no believer in ghosts—that much I knew about him. He was entirely too serious for such frivolities. He was pragmatic, a man of science. But our mutual friend said Guy believed the sounds were coming from something he couldn't see and he was a little scared about what might happen. Fortunately, nothing ever happened.
If Mary or Ernest was angry with him, I think it would have been Ernest, with all of the hullaboo and clatter that accompanied his life, but I wonder if Guy simply had a roaring hangover.
I've neither studied nor even thought about ghosts but what I saw—or perhaps didn't see—made me question my willingness to disbelieve my own senses. It appeared to be a woman of the house who was perhaps curious about the man who was being shown her realm, I don't know. She was short and pretty, just as Mary was. If you tend to believe in such apparitions, I have no idea what would have motivated her to come out for such a brief time.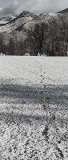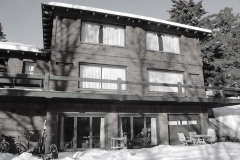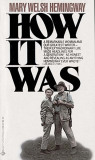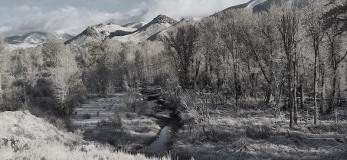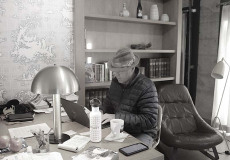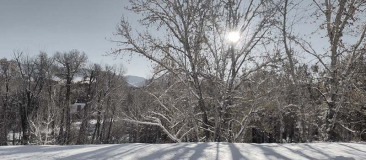 Had we stepped three paces forward while Kelley was giving the tour, we might have walked onto the spot where her husband killed himself. There was power in that spot! I tried to walk around it, even though no trace of it existed. Perhaps Mary was protecting the place where her husband died. I couldn't fathom what she might have held within her head for her last years but I guess it doesn't matter much.
Still, I thought the memory of that day would have remained as vivid now if she were still around as it was in 1961. She wouldn't forget such a grisly death by double-barreled shotgun. Who could?
That evening, two pintails flew like daggers toward the Big Wood River, pivoting their wings against the fall just before landing on a still patch of river. Beside the water, a great blue heron walked its stick-weary way along the marshy edges looking for food, and when it saw me, it raised its wings and lifted off slowly, slowly, and then flew above the trees and disappeared upstream.
A dusky colored dipper crash-landed into the water and then rose from it, standing on a rock beside the river. Its whole body bobbed up and down. The birds brought me peace in this human-dominated world, which to me seems to have become increasingly hostile. The sparkling rime of cottonwood trees, whose leaves shone bright red, yellow, and dead brown, cast their stretched-out shadows under the crystalline day.
November is the time when nothing comes or goes. The earth seems parched and still and beautiful: a still life, almost frozen in the colors of a Cezanne.
During WWII, before Mary and Ernest met, they both lived for a while in London and Paris, where both were well-known journalists. Reporting for Time, Mary was one of the first female war correspondents. She was accredited to the US Army, which meant she wore a regulation uniform while on duty and held the rank of captain, which didn't include any power to command but allowed her access to officers' clubs.
She got to know Gen. Dwight Eisenhower and had many close relations with other US military brass. A rare woman in a time and place of ragged war, her insider's information fueled much of her writing.
Mary was aware of the powerhouse aura of Ernest in the early 1940s in London, and had attended the 1943 movie release of Hemingway's novel For Whom the Bell Tolls, which starred Gary Cooper and Ingrid Bergman. Hemingway reputedly finished writing that book in room 206 at the Sun Valley Lodge. He arrived in London on May 17, 1944, as a correspondent for Colliers Weekly.
Mary was then thirty-six and he was forty-four, already an old sage whom people called "Papa," which he preferred to "Ernest." In addition to For Whom the Bell Tolls, he already had written In Our Time, The Sun Also Rises, A Farewell to Arms, To Have and Have Not, and Death in the Afternoon. He was a living legend when Mary met him and he made it clear that he wanted to marry her—it was said that Papa was never uncertain or timid about love—but Mary wasn't so sure if she was in the game with him.
Papa already had married three times, to three fabulous women: Hadley Richardson, Paulene Pfeiffer, and Martha Gellhorn. Mary herself was twice married.
In September of 1945, World War II ended and there were parties galore when the Germans surrendered in Paris. In March 1946, Mary and Ernest married in Havana, Cuba. In August, when she was pregnant with her first child, they left Cuba and drove from Key West, Florida, to Sun Valley.
One night, they slept at a motel in Casper, Wyoming, where Mary awoke in the middle of the night with intense pains. Her husband called for an ambulance. A doctor gave her a painkiller and she lapsed into unconsciousness. "One of her Fallopian tubes burst, sending blood and the resulting hemorrhage filled her abdomen with blood," Timothy Christian wrote in his superb 2022 book, Hemingway's Widow.
The doctor found that he couldn't get a needle into Mary's collapsed veins and said he couldn't do any more for her, which angered Hemingway, who had been an ambulance driver in WWI. He told the nurse to cut into Mary and then he pulled out a vein, pinched it with his finger, and inserted a syringe of life-saving plasma. After she awoke, Mary came to realize that her husband had saved her life.
The couple lived in Cuba off and on for many years. In 1954, two years after The Old Man and the Sea was published, he won the Nobel Prize for Literature. That story about an old fisherman whose prize catch is taken from him by a shark might have represented Hemingway's declining career before he wrote the novel, and it's a powerful metaphor for any person who feels defeated.
Hemingway could have killed off the old man whose life was now nearly finished, but I've read that Mary strongly thought it would be best for him to survive. Why kill the old man? she argued. Let him live! It would be a show of strength to live through the ordeal, even though he would wake up to another day of the same old poverty, the same old pain of living, and the same old resolution to withstand that pain.
Mary, who once owed her life to Ernest, in turn gave him back his reputation as a great writer, at a time when he suffered from depression and lack of self-confidence. He had been wounded in war, drank too much, and apparently was paranoid. All this must have amounted to a difficult reality for Mary to fight for fifteen years.
She had given a lot of herself to marry this famed author. Yet she continued to do well on her own. In addition to propping up her troubled husband, she published a memoir in 1976, How It Was, about her life and her relationship with Papa.
On my last night in the Big Wood River drainage, a skiff of snow fell, casting a frosty layer over the house and on the high Boulder Mountains of the Hemingway Wilderness beyond it. In a few minutes, the sun rose above those mountains and burned away the darkness and mist.
Clouds took on the glow of the rising sun as they floated along the mountaintops to the east and west, carrying a soft pinkness and a spurt of blood-red light. I was charmed by this light but I couldn't stay any longer. Homes in the valley below awakened and began to glow from inside. The mountains were crisp and dark and ominous and this wild environment felt like it belonged to me. Or maybe I to it.
Right ahead of me in the snow, footprints were aimed at the faraway mountains. Could they have been left by the ghost of Mary or was it just a solitary soul walking into the forests around Ketchum?
If you enjoyed this story, please consider supporting us with a SUBSCRIPTION to our print edition, delivered monthly to your doorstep.