All the Demons of Hell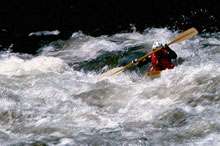 Turned Loose in 1974
By Joe Leonard
Photos Courtesy of Joe Leonard
We hadn't gone more than a couple of miles when we saw a man in uniform standing on the bank of the river frantically waving at us.
Like a covey of quail, we started paddling in his direction, getting close enough to identify his uniform—he was the forest ranger in this neck of the woods. In 1974, no permits were required to float the Main Salmon and we wondered why he was calling us in.
"Where the hell do you think you're going?" he yelled.
"We're floating to Riggins," I answered, pulling into the small eddy where he stood.
" Are you crazy? This river is flowing at over one hundred thousand cubic feet of water every second, the highest level in recorded history! It's a monster and it'll get a darn sight bigger downstream—you'll be swallowed and never spat out! Four people on a commercial guided trip drowned in this canyon yesterday, and they were in tandem rubber rafts—two rafts tied together, twenty feet wide and thirty feet long. They use them on the Grand Canyon—they even had motors to propel them. The people in that boat didn't live to tell about it. What chance do you think you boys have in those piddly-ass little boats?"
"These 'piddly-ass little boats,' as you call them, stand a much better chance of getting down this river than any raft, even if you tied a hundred of them together. I have a kayak school on the Salmon River below Stanley. I know what I'm talking about."
"Look, I don't have the authority to stop you," the ranger replied in resigned anger. "If I did, I would haul you out of that river in a heartbeat and send you up to the madhouse. But if you insist on this insanity, then all I can do is have you sign a paper saying that you understand that this trip is suicidal, but you're going anyway."
His words were not reassuring and the word "suicidal" put me on edge. "We'll be fine, we know what we're doing."
"I sure as a hell hope so. Wait here."
He went to his truck and returned with a document in hand. He rapidly wrote our names on the paperwork and handed it to me, saying we each had to read it carefully and sign it. On the form he had scrawled the following paragraph: "The people whose signatures appear below have been informed of the danger of the Salmon River currently in flood stage, flowing at over 100,000 cfs. I have explained to this group that four people I know of drowned yesterday and the river levels are still rising. The signers understand that to attempt to float the Salmon River at this level is suicidal."
With some trepidation, we all signed the form and handed it back to him.