An Ancient Murrelet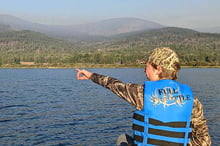 Amid Birds, Birds Everywhere
Story and Photos by Shane Sater
My friend River Corcoran, an avid birder and skilled naturalist, wasn't specifically looking for birds early on the morning of September 25 last year at McArthur Lake near Sandpoint, but fortunately he had his camera with him. As soon as he saw a little bird fly past and land on the western side of the lake, he knew it was something special. River's photos were unmistakable: it was an ancient murrelet, blown far inland.
Ancient murrelets are small, hardy diving birds of the open ocean. Clothed in waterproof feathers, with a mantle of light gray covering their backs, they supposedly resemble an "ancient" person in a cloak—which allegedly explains their mysterious name. They nest on land, digging burrows on northern Pacific islands such as the Aleutians. But within three days of hatching, the chicks return to the sea. Accompanied by their parents, they swim for miles and miles, traveling far from the nesting islands. They dive to feed, catching small fish and shrimp-like euphausiid crustaceans.
Two days after River's sighting, he and I were back at the lake, hoping to get another look at the murrelet. McArthur Lake Wildlife Management Area, eighteen miles north of Sandpoint, is a stunning habitat for wetland birds. It's an extensive, shallow lake, the water crowded with pondweed (Potamogeton spp.) and other aquatic vegetation. A large marsh of cattails (Typha sp.), hardstem bulrush (Schoenoplectus acutus), and arrowhead (Sagittaria sp.) surrounds the open water. Around the marsh, there are alders, cottonwoods, and western red cedars. It's a much wetter landscape than the Helena Valley of western Montana, where I now live, where red cedars don't even grow and the marshes blend into greasewood flats and dry grassland.