Apple Cake/Chili Verde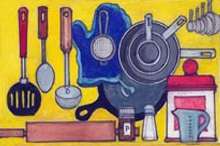 By Amy Larson
Old-Fashioned Apple Cake
INGREDIENTS
5 c. large unpeeled apple chunks
2 c. sugar
2 eggs
½ c. oil
1 tsp. vanilla
2 c. flour
2 tsp. baking soda
2 tsp. cinnamon
1 tsp. salt
PREPARATION
> Preheat oven to 350 degrees. Grease and flour 9" x 13" baking pan.
> Mix together: 5 c. large unpeeled apple chunks and 2 c. sugar. Let stand for 15-20 minutes.
> Beat: 2 eggs with ½ c. oil and 1 tsp. vanilla. Mix with apples and sugar (after waiting 15-20 minutes of standing time)
> Sift together: 2 c. flour, 2 tsp. baking soda, 2 tsp. cinnamon, 1 tsp. salt
> Mix with apple combination and pour into cake pan. Mixture will be very stiff.
> Bake for one hour, or until a fork comes out clean.
Note: While at the home of Ralph and Rochelle Lillig for Sunday dinner, we took a tour of their vast movie collection, saw various fun costumes they both wore back in the day, and heard marvelous stories of Ralph's work on movie sets, and Rochelle's glamorous adventures.
At the end of the evening, arms already filled with recipes, random gifts, and hugs (the Lilligs are givers), Rochelle sent me off with a bottle of her coveted apple preserves, rich with spice and tasting for all the world like a grandma's kitchen, love, and deep coziness, all rolled into one.
Holiday Cheer Chili Verde
INGREDIENTS
6-7 lbs. pork butt, cut 1" cubes
1 Tbsp. sea salt
1 tsp. coarse ground black pepper
½ tsp. ground cumin
½ tsp. paprika
½ tsp. red pepper flakes
2 Tbsp. oregano
5 bay leaves
½ tsp. cayenne pepper
4 oz. garlic cloves, chopped
1 ½ lb. onions, chopped large
2 lbs. carrots, peeled and chopped
½ c. extra virgin olive oil
1-16 oz. jar La Victoria medium Thick & Chunky Salsa Verde
1-19 oz. can Las Palmas medium green chili enchilada sauce
1-7 oz. can whole Ortega
peppers with juice
½ c. flour (add at end)
PREPARATION
> Rub cubed pork with sea salt and black pepper. Heat olive oil, over high heat, in a heavy Dutch oven. Sear pork in hot oil, about 1/3 at a time and reserve in a bowl. Reduce heat after removing last of pork and add garlic, onions and carrots. Let simmer with lid on.
> Add pork and remaining ingredients except for the flour. Bring to a boil, then cover and reduce heat to lowest possible setting. Simmer covered for about three hours, stirring occasionally. Check seasoning for enough salt and add more sea salt, if needed. Continue simmering until pork is very tender (this could take another hour or more). Once the pork is VERY tender, skim off the oil floating on top and place into a medium skillet (it's okay if you get a little of the liquid with the oil).
> Add the flour and cook over medium heat without whisking. When the flour has been cooked, about 2-3 minutes, add back into the Dutch oven and continue to combine. Simmer partially covered over very low heat stirring occasionally. Serve with warm flour tortillas, refried beans, Spanish rice, and guacamole. YUM!
Note: These recipes were given to me at the home of Ralph and Rochelle Lillig, who came into our lives via Caleb Bossert, their grandson. Caleb met my niece, Tiffany Briggs, when they were both members of their high school band.
Only 17, the two noticed a rare soul connection, which continued for years as the couple both attended Le Cordon Bleu in Portland, graduating with high honors. They now own a catering business in the Pocatello area. The love of good food runs in the family. Caleb and Tiffany invited me to Caleb's grandparents' home for Sunday dinner recently, an event I anticipated.
I was greeted warmly at the door as the "famous Aunt Amy," and immediately felt like family, too. What followed was like something out of my happiest dreams. A beautiful home, great conversation, and a stunning, mouth-watering, multiple- course meal. It's like that every Sunday, I was told, and I marveled at the constant care Rochelle Lillig put into her recipes.
I chanced asking for a few to share, and Rochelle, a giver, supplied me with several.
This woman is the sort you'd want to create a cookbook around, inspired, no doubt, by her setting of Pocatello foothills, inviting home, and the fact that she's a good, kind-hearted person surrounded by other open, welcoming hearts.
Sunday dinners like the one experienced at the Lillig home is what I aspire to recreate in my own home one day. Sigh. Such heaven. Can't wait to go back.