Apple Lasagna/Chicken Cheese Chili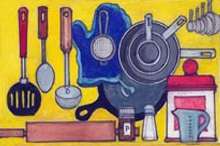 By Amy Story Larson
When the air turns cooler, the fare turns heartier. That's my motto, anyhow. his being my birth season, when I smell fall in the air, the senses go on high alert. The shadows have shifted, making the edges of leaves, branches, and blades of grass stand out and get noticed. Bike rides, morning walks, hikes near lakes and rivers that will shortly be more dormant: these are the things I crave, perhaps even a bit of chilly camping, because waking up shivering has the worthy payoff of a glorious autumn sunrise. Grab a hot mug, step outside one morning, and let's imagine we are all welcoming fall in unison.
Autumn Apple Lasagna with Caramel
INGREDIENTS
2 cans cinnamon rolls with icing
4 large apples, diced
1/2 c. sugar
1 tsp. cinnamon
1/4 tsp. nutmeg
1/4 tsp. black pepper (optional)
Pinch of ground clove (optional)
1 Tbsp. cornstarch
1/4 to 1/3 c. caramel or salted caramel sauce
PREPARATION
> Preheat oven to 375 F. Spray glass or ceramic 8 x 8 x 2 inch dish with nonstick spray.
> In a bowl stir together apples, sugar, cornstarch, cinnamon, nutmeg and any other spices.
> Cut cinnamon rolls in ¼ inch slices and roll out on floured surface until thin. Dust with flour to decrease stickiness.
> Arrange layer of flattened cinnamon rolls at the bottom and sides of a dish. Press with hands to seal them.
> Spread half of apples from the filling and drizzle 2-3 tablespoons of caramel sauce on top. Cover with another layer of flattened cinnamon rolls.
> Spread remaining apples and drizzle with caramel sauce. Cover with remaining flattened cinnamon rolls.
> Cover with aluminum foil and bake 30 minutes. Then remove the foil and bake another 10-15 minutes until the tops are golden brown.
> Cool at least 30 minutes, drizzle with icing that came with cinnamon rolls, slice and serve.
*Recipe adapted from Oh My Goodness Chocolate Desserts omgchocolatedesserts.com
Cozy Chicken Cheese Chili
INGREDIENTS
2 chicken breasts
1 can black beans drained and rinsed
1 can corn, undrained
1 10-oz. can Rotel™ tomatoes w/green chilis, undrained
1/2 tsp. minced garlic (optional)
1 package ranch dressing mix
1 tsp. cumin
1 Tbsp. chili powder
1 tsp. onion powder
1/2 cup water
1 8-oz. package light cream cheese
PREPARATION
> Put chicken breasts in a crock pot.
> Add all other ingredients except cream cheese and mix thoroughly.
> On top add the cream cheese
> Cook on low for 6-8 hours, then stir it up and shred the chicken.
NOTE: You may wish to top the dish with with thin tortilla strips, shredded cheese, and sour cream.