A Splendid Showing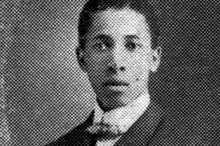 Idaho's First Black Lawyer
By Justin Vipperman
When I grew up in rural Idaho, I had few opportunities to interact with African Americans on a day-to-day basis. Moving to Tennessee in 1999 provided me with ample opportunities to see that what I thought I knew about Black culture was incorrect. However, it took years to break the stereotypes I had been socialized to believe. Later, while attending an Idaho State University history course, I was surprised and much dismayed to learn that slavery existed in the American West. This led me to study Black history in graduate school in Portland. When I returned to Idaho, one of the first stories I heard was of a Black man from Twin Falls who had passed the Idaho bar exam, but people didn't know much about him. I wanted to tell his story.
"The first black lawyer admitted to the Idaho bar was Reginald Ray Reeves, of Idaho Falls, on November 3, 1952." This piece of information has long been considered definitive history. But it's incorrect. The statement originally appeared in a footnote of a 1993 book, Emancipation: The Making of the Black Lawyer 1844-1944, by the late lawyer and Howard University instructor J. Clay Smith, Jr. It was mentioned as a "first" for years during Black History Month. Yet in June 1908, the Twin Falls News ran this headline: "Another Record for Twin Falls: Presents First Colored Member to Idaho Bar." The man was Joseph R. Mitchem, Jr. His achievement, a landmark in Idaho history, has been largely forgotten.
This oversight coincides with the broader African American experience in the West, which provided refuge for individual Black residents even as it preserved group racial stereotypes. In a 1998 book, historian Quintard Taylor suggested African Americans found anonymity in the West that they didn't have in the American South, but they also found prejudice and discrimination. Both happened when small concentrations of Black citizens moved into the region seeking new opportunities after the Civil War. Mamie Oliver suggests in her 1990 book, Idaho Ebony: The African American Presence in Idaho State History, that "limited individual successes" led to better opportunities. College of Southern Idaho professor emeritus Jim Gentry explained in a 2003 book that Joseph Mitchem's experience is reminiscent of that of many African Americans in the West: white citizens projected racial stereotypes onto the group, yet tended to support the individual. In this way, the account of Joseph Mitchem mirrors the African American experience on the American frontier.