Armadillo Eggs/Pumpkin Rolls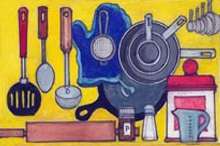 By Amy Story Larson
Armadillo Eggs
INGREDIENTS
1 lb. sausage meat (mild, spicy, breakfast, honey garlic, etc.)
5 jalapeno peppers (or, if too strong for some members of household, Poblano peppers will suffice)
1/2 brick cream cheese (4 oz.)
3/4 c. grated extra sharp cheddar cheese
1 Tbsp. minced garlic, added to cream cheese mixture
PREPARATION
> Heat smoker to 250 F . Could use hickory, pecan, or applewood.
> Core peppers, remove seeds and membrane.
> Mix together cream cheese and grated cheddar.
> Fill peppers with filling.
> Wrap sausage meat around pepper and roll into shape of an egg.
> Place armadillo eggs on a smoker rack in smoker.
> Smoke for 2 hours, making temperature of meat 160 F. If cheese bubbles out of the eggs, it is likely done.
> Happily serve to hungry home-dwellers.
NOTE: My friend Ken is always posting the most scrumptious-looking recipes on social media. The other day he tipped the scales with photos of Armadillo Eggs. Just had to try them.
Pumpkin Rolls
CAKE INGREDIENTS
3 large eggs
1 c. sugar
1 tsp. cinnamon
1/4 tsp. nutmeg
2/3 c. pumpkin puree
3/4 c. all purpose flour
1 tsp. baking soda
FILLING INGREDIENTS
8 oz. cream cheese, softened
3 Tbsp. butter, softened
1 c. powdered sugar and extra for dusting
1 tsp vanilla
PREPARATION
> Preheat oven to 375 F.
> In large bowl, beat eggs, sugar, cinnamon, nutmeg, vanilla, and pumpkin puree.
> In separate bowl, mix flour and baking soda. Add to the other ingredients, combine until smooth.
> Line 10" x 15" jelly roll pan with parchment paper to about one inch over sides. Spread mixture evenly on parchment paper.
> Bake for 15-20 minutes.
> Remove from the oven and allow to cool just enough to touch. Then lift cake out of pan.
> Starting from the short ends, gently roll up the pumpkin cake with paper inside. Allow to cool completely on a wire rack.
> Prepare the cream cheese filling by beating cream cheese, butter, and powdered sugar until smooth.
> Unroll the fully cooled cake and spread on top, leaving ¼" edge so filling won't spill out.
> Roll up the pumpkin cake again, this time without the parchment paper.
NOTE: My sister Vivian Conner makes and sells her Pocatello-famous pumpkin rolls each holiday season. This is not her recipe, just a good one to use. Not sure she'd give hers up, but I'll keep working on her.