December 2021 Calendar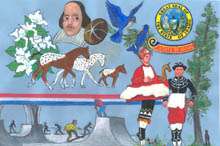 By Les Tanner
Double-checking with event coordinators about the following locations, dates, and times is recommended.
Northern Idaho
2 The Well~Read Evening Book Club:
6:00 – 7:30 PM, The Well Read Moose,
Coeur d'Alene
2,9,16 Pre-school Storytime: 10:30 – 11 AM, Community Library Network, Hayden Lake
3 Community Christmas Light Parade, Kamiah
3 Coffee & Books: Join us for a lively book discussion over coffee. 10 – 11 AM,
City Library, Lewiston
3 Old Fashioned Christmas Tree Lighting & Parade: 10 AM – 1 PM, City Park, Orofino
3-11 Wallace Home Town Christmas Festival, Wallace
4 Community Riverfront Park Christmas Lighting, Kamiah
4 Holiday Open House: 10 AM – Noon, Appaloosa Museum & Heritage Center, Moscow
8 The Well~Read Morning Book Club:
10:00 – 11:30 AM, The Well-Read Moose, Coeur d'Alene
10-22 Traditions Of Christmas: The Salvation Army Kroc Center, Coeur d'Alene
11 Fall/Winter Market: 6 PM, 8037 Montana St., Rathdrum
11 Sounds of Christmas: Cardinal Chorale Chamber Singers Max Mendez, conductor NIC Wind Symphony Bryan Hannaford, conductor This event is free and open to the public. Schuler Performing Arts Center. Sat, 7:30 PM – Sun, 3:30 PM, NIC Boswell Hall / Schuler Performing Arts Center, Coeur d'Alene
11-12 Christmas Extravaganza: Nez Perce County Fair Grounds, Lewiston
18-19 Christmas Lights Drive-Thru: Free. Edgemere Grange, Priest River
18-19 Sport Connection Gun Shows: Kootenai County Fairgrounds, Coeur d'Alene
24 Syringa Club's "Santa Comes to Elk River":
8 AM- 5 PM, Elk River
Southwestern Idaho
1-17 Letters To/From Santa: The Village at Meridian is assisting Santa with letters from children in the Treasure Valley! There is a special mailbox near the Santa House in Fountain Square. Visit the concierge desk, obtaon some s[ecial stationery. Have your child write their letter to Santa and drop your letter in the mailbox. If you would like a reply from Santa, be sure to include your address. Meridian.
1-31 "Exquisite Creatures" Exhibition: An artistic experience that unravels humanity's intimate relationship with the natural world, featuring artist, naturalist and New York Times bestselling author Christopher Marley. 10:30 AM – 4:30 PM, The Discovery Center of Idaho, Boise
1-31 Winter Garden aGlow: Wed-Sun. 6 – 9:30 PM, Idaho Botanical Garden, Boise
2 First Thursday: Treat yourself to a fun night with your favorite downtown retailers, services, watering holes and restaurants. Make a plan to enjoy the places that make Downtown Boise the special place that it is. 5 – 9 PM, Boise
2 Family Night Out-"Samosas & Chutney": Explore Indian flavors with vegetable-based samosas and two savory and delicious chutneys. All ages + Adult (youth under 16 must be accompanied by an enrolled adult). $16 per person. Register at (208) 608-7680. 5-7 PM, Boise Urban Garden School, 2995 N. Five Mile Rd., Boise
3 Winter Lights Parade: 6:30-8:00 PM, Meridian
3-5 South IdahoWinter Market: This is an indoor market which takes place at the Ford Idaho Sports Center, Nampa
3-5 Holiday Art Fair: The Riverside Hotel,
Garden City
3-5 2021 Christmas Show, Expo Idaho,
Garden City
4 Christmas Bazaar & Tree Sale: 10 AM – 5 PM, Owyhee County Museum, Murphy
4 Museum Work Day: Volunteers welcome (8:00 AM). Lunchtime seminar (bring your own lunch): Gipson Honors Students, "Presentations of of Class Projects in the Museum". Noon to 1 PM, O. J. Smith Museum of Natural History, College of Idaho. [NOTE: Masks required in campus buildings.] Caldwell
4 Nampa High Boosters' Holiday Fest:
Over 100 Artisans and Crafters! Come enjoy breakfast and stay to enjoy one of our famous Poly Plate lunches. 9 AM – 4 PM, Nampa High school, Nampa
4 Eagle Country Christmas: 1 – 6 PM, Heritage Park, Eagle
4 34th St Market and Capital City Public Holiday: 4 PM, 303 E 34th St., Garden City
4 Treasure Valley Night Light Parade "Christmas A-Glow": 6 PM – 11:59 PM, Caldwell
4-5 Amoureux Homedale Gun Show: Owyhee County Fair Board, Homedale
5-12 Sensory Friendly Event: Boise Towne Square, Boise
6-20 Santa's Helpers Story Time: The Village at Meridian, Meridian
7 Art Endeavor: All ages are invited to get inspired and make their own art creation. 4 – 5:30 PM, Public Library, Nampa
8 Hyatt Hidden Lakes Birding: Join Golden Eagle Audubon and the Wednesday Morning Birders for some slow birding. Expect to see a wide variety of ducks in breeding plumage as well as wintering songbirds and possibly a few late migrants. 9 AM – Noon. Meet at the main parking lot, Hyatt Hidden Lakes, Boise
8,15 Messy Munchkins Holiday Art: Create 3 gifts to give away or save as keepsakes for the holiday season, proudly made by your toddler. Parent/guardian participation is required. Youth aprons will be provided; however, dress for a mess. Ages 2-4, 10:30-11:30 am, Community Center, McCall
13-17 City of Emmett's Santa & Friends Drive through the Neighborhoods: 6 PM, Emmett
18 THRIVE Kids' Day Out: 1 – 4:30 PM, Tomlinson South Meridian YMCA, Meridian
18 Procrastinators' Christmas Marketplace: 11 AM – 4 PM, The Gathering Place, Emmett
18-19 YMCA Christmas Run: 1 PM Saturday and
6 AM Sunday, 1010 W Washington St., Boise
18-19 Handel's "Messiah": Boise Philharmonic presentation; 8 PM, Cathedral of St. John the Evangelist, Boise
21 Potato Bowl: 1:30 – 6:30 PM, Albertsons Stadium, Boise
22 Traveling Table Mobile Food Pantry:
7:15 – 9 PM, 211 19th Ave N., Nampa
27 LEGO© Club: All ages are invited to get creative and build anything they choose with Legos. We will also have an area for the younger builders to explore with Duplos.
4 – 5 PM, Public Library, Nampa
28 Elmore County Mobile Pantry: 5 – 7 PM, 132 E 5th Ave., Glenns Ferry
31 Idaho Potato Drop: 3 PM, Idaho State Capitol, Boise
Southern Idaho
8-11 "The Best Christmas Pageant Ever, The Musical": College of Southern Idaho, Twin Falls
12 Jazz Ensemble: Admission is free, but donations to the CSI Music Department Scholarship Fund are always appreciated at the door. 4 – 6 PM, College of Southern Idaho, Twin Falls
Central Idaho
1-31 MadDog Gallery Artisan's Market: Come shop this great selection of art. All different mediums will be showcased at the Gallery. Support our local artists. Challis
3-4 Christmas Bazaar: Friday 10 AM – 6 PM, Saturday 10 AM – 5 PM Community Event Center, Challis
10 Story Time with Santa: Join Santa and the Peterson family for light refreshments and celebrate the Christmas season. This event is free and open to public. 2 – 5 PM, Penwell House, 810 E North Avenue, Challis
12 Wood River Orchestra Holiday Concert:
4 – 4:15 PM, Presbyterian Church of the
Big Wood, Ketchum
13 Christmas Tree Lighting: 10 AM – 7 PM, Sun Valley Lodge, Sun Valley
21 Starry Solstice Social: Gather in Ketchum Town Square to celebrate the winter solstice & our dark skies with telescopes provided. Live Music by Audio Moonshine (6-8), Food by KB's, and Cookies and Hot Cocoa by Hailey Coffee, 2:30 – 7:30 PM, Town Square, Ketchum
Eastern Idaho
3 ISU Chamber Choir Holiday Concert: 7:30 – 9:30 PM, Stephens Performing Arts Center, ISU, Pocatello
4 Santa's Workshop: Shilo Inn Event Center, Idaho Falls
4 ISU Symphonic Band Concert:
7:30 – 9:30 PM, Stephens Performing Arts Center, ISU, Pocatello
4-5 Pocatello Gun Show: Mountain View Event Center, Pocatello
8 Customer Appreciation Day: All day, Lava Hot Springs
11-12 Lewis & Clark Gun Show: 9 AM, Mountain View Event Center, Pocatello
17 Christmas Class Parties: 9:15 AM – 2:30 PM, Sunnyside Elementary School, Idaho Falls
19 Natividad Vivo/ Live Nativity: 5 – 7 PM,
170 Park Ave, Idaho Falls