Austin Goes West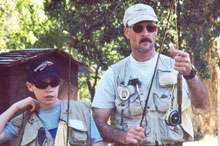 In Search of Really Big Trout
Story and Photos by Les Tanner
I've got one," Austin said quietly as I was in the middle of a cast. I looked up to see my oldest grandson standing knee-deep in the cold water, a few yards upstream from where I was fishing—and sure enough, his fly rod was bent into a big curve. He definitely had a fish on.
I was surprised that Austin was so calm. But he was a cool kid, even at eleven years old—and he remained cool in spite of the fact that he had hooked his first trout of the day.
"Be there in a sec," I said, reeling in my line and backing carefully toward the bank. Austin hadn't caught a fish yet on this trip, and I thought he might need some help landing it, especially if it was more than just a little one. It turned out he didn't need much help at all.
Austin and his dad, Michael, had done a little fishing when they had come out here to Idaho the previous summer. His mom, Trudy, and his brother and sister, Carson and Olivia, had been here then, too, and so we hadn't had too much time for the fishing thing. But Austin and Michael and I had still managed to sneak out for a day on the No Name River (if you think I'm going to divulge the real name of our secret spot, you've got another think coming!), and Michael and I had spent a few hours there the day before they left to go back home to Illinois. They'd both caught fish on those trips, but nothing to brag about, and when they had a chance to come out again this summer, they jumped at it.
Things didn't work out very well, though, this time. For one thing, last winter's snowfall was far below normal, and this summer's water levels were very low, so there weren't many places we could go. For another, it had been hot, hot, hot for long stretches of time. That makes the fishing both hard and miserable. Then, on the very first afternoon of our fishing trip, it turned cold and rainy—and that's no fun either.