Bases Loaded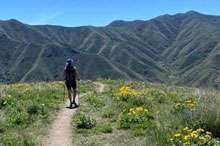 Hitting the Grand Slam
Story and Photos by Alice Schenk
I love lists. They're an aid to constancy—the stickability that carries me through situations and sections of life in a manner more focused than I might otherwise be. A list helps to kick my Type A, goal-oriented personality into overdrive by spurring me to invest in research and to achieve the subsequent rewards of hiking and adventure. Granted, I have to discipline myself to get those rewards, but there is indescribable gratification in being able to say. "I have done it—this thing I sought to do—I've done it." In April 2017, I read Chadd Cripe's article in the Idaho Statesman on Tom Lopez's Grand Slam Peaks. It was a wonderful article and since I love hiking and climbing mountains, I put these four peaks on my "to do" list.
In late April 2020, as the pandemic shut down our communities, I tackled Cervidae Peak, first base on the Grand Slam. I invited my daughter Sarah. She read about the steepness of the climb and said, "Sounds tough. And another way to say tough is . . . not fun. I'll pass, but I hope you enjoy it and take great pics of the view."
Next I invited Boise friend Bridget Bedke, nicknamed Bird, whom I knew would probably fly up the trail. She has climbed Mount Borah and several other major Idaho peaks. I was delighted when she agreed to hike with me. We climbed a narrow path that cut uphill on a relentlessly steep grade. We hiked steadily but I did not fly. Pausing often, I glanced around at the layers of loveliness surrounding our hike and snapped plenty of pictures. I felt as if we had walked through a window into a reality that exceeded the ordinary. Our bird's-eye perspective of the surrounding beauty and the water far below us was nothing short of amazing. On top, near an ammo box that held the register where we could sign our names, a painted rock made me smile. It said, "Enjoy the Little Things in Life." That we did, on a day filled with sunny skies, lots of great conversation, and laughter.
A month later, I reached second base in climbing Shaw Mountain/Lucky Peak with my husband Wayne. We considered it a "day date" as we hiked under stormy skies toward the 5,908-foot summit. I snapped a picture of flowers tucked in against rocks and thought, "You can pay a lot of money to deliver rocks like this to your yard for a flower garden, but hiking gives you the beauty of seeing it in a natural environment."