Bear Claw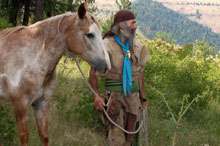 On Top of the Mountain
Story and Photos by Dick Snell
We met through a mutual friend in Kamiah. He said his name was Bear Claw. He was a mountain man, dressed in brain-tanned buckskin clothes that he made and a round-brimmed hat to withstand the wet weather as well as for shade during warmer days. His fifty-caliber black powder rifle was sheathed in buckskin with tasseled edges.
He told me he saw the movie Jeremiah Johnson when he was fifteen, and became so intrigued by the main character that he decided he wanted to be a mountain man. He said when his family of twelve gathered for dinner at their farm in Wisconsin, everyone had to either grab and eat or go without food until the next meal.
Attending mountain rendezvous around the country, Bear Claw learned many things, big and small, about how to perform the daily tasks necessary to survival in wooded mountains. He took to trading for items made in the old way of the mountain man, and learned how to make long-lasting garments from deer hide that would withstand the cold and heat and wash easily.