Bear Claw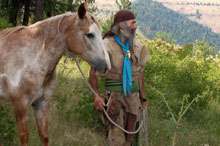 On Top of the Mountain
Story and Photos by Dick Snell
We met through a mutual friend in Kamiah. He said his name was Bear Claw. He was a mountain man, dressed in brain-tanned buckskin clothes that he made and a round-brimmed hat to withstand the wet weather as well as for shade during warmer days. His fifty-caliber black powder rifle was sheathed in buckskin with tasseled edges.
He told me he saw the movie Jeremiah Johnson when he was fifteen, and became so intrigued by the main character that he decided he wanted to be a mountain man. He said when his family of twelve gathered for dinner at their farm in Wisconsin, everyone had to either grab and eat or go without food until the next meal.
Attending mountain rendezvous around the country, Bear Claw learned many things, big and small, about how to perform the daily tasks necessary to survival in wooded mountains. He took to trading for items made in the old way of the mountain man, and learned how to make long-lasting garments from deer hide that would withstand the cold and heat and wash easily.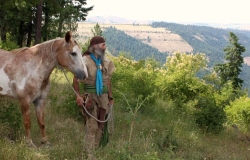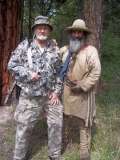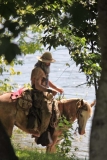 He started living his new life as a mountain man in 1988, and has never doubted that his decision was right. His life is what he has made it. About fifteen years ago, the mountains of Idaho became his home. He has worked for outfitters, skinning elk, deer and bear for their clients, and as a wrangler. Bear Claw now caretakes private property and animals on a mountaintop, living in a metal-and-wood place he modified himself to withstand the winters.
One day, he and I joined our mutual friend, Larry Rivera of Lewiston, on a scouting trip in the mountains around Lolo, where snow lingers in the draws on the north side until the end of July. Bear Claw put us on to the tracks of a big bear in a sleepy conifer-filled draw that held tree stumps teeming with summer grubs. I'm skilled at critter calling, and I called at two locations, but the only sights and sounds we heard that day were made by me, echoing in the deep wooded canyons. That, and the screech of a hawk passing overhead.
Halfway down the mountain, we stopped to look over the land and listen to the wind moving through the trees. The wind stopped, and in the silence I cupped my hands to vocalize the howl of a wolf. Halfway through my howl, Larry joined in, and then Bear Claw. Each of us howled twice, followed by a return to silence. Down the hill about two miles, a pack of coyotes answered our howls with a brief suite of their own. Bear Claw broke into a smile larger than a half moon. "That's so cool."
Since that day, Bear Claw and I have had many conversations and have become good friends. I told him about when I first came to Idaho to cut timber back in 1976 and how I never forgot the land or the people before returning to live in Kamiah in 2012.
Bear Claw is a part of the backcountry that tourists will never hear about or see, but he's up there. Some say he'll live forever. Some say he was there in another life. One thing's for sure: he's there right now, on top of the mountain.