Beware of Dog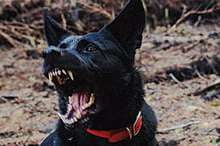 Especially in an Elevator
By Chuck Trunks
Dog-lovers, be forewarned: in this excerpt from a new book, Must Love Dogs, the author describes an encounter that helps to explain why he's anxious and fearful in the presence of big canines.
Before settling into my eventual apartment in Coeur d'Alene in 2020, I experienced the unraveling of my first choice of places to rent in a way that seems like it was gifted to me by the universe so it could be written about and included in this book. You may say to yourself, "No way. What are the chances something like that could happen to a guy writing about dogs? It's too perfect!" But if witnesses aren't enough, I can also produce video footage of the whole thing—the same video footage that was used to have my application fee and rental deposit refunded to me.
The five-story building was the color of redwood trees and situated on the quieter side of Coeur d'Alene Lake. Although the chalet-like design made it look more suited for a ski resort, the surrounding tall pines seemed to adopt the building as one of its own and soften its uniqueness. The popular and well-maintained Centennial Bike Trail was steps away from the front of the structure. Riding five miles in one direction would take you to Higgins Point, a rocky bluff with panoramic views of the glassy lake. Fifty miles in the other direction would take you to its western terminal at Riverfront Park in Spokane, Washington. And if that wasn't enough to make me want to move in, there was a coffee shop and bakery on the first floor. Thank you, biking gods!