Bipolar Season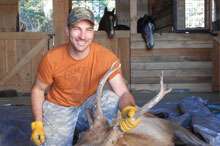 The Hunt Started So Well . . .
Story and Photos by G.T. Rees
I climbed over one last deadfall on the long-neglected trail and pushed myself up the final step to the saddle on a commanding mountain ridge.
It was cold, the temperature dropping as the sun began to break over the Cabinet Mountains in late September and let out a puff of breath to test the wind direction. I'd hiked an hour in the dark to get to this spot overreaching a remote mountain meadow where I was certain elk would be bunched up like cattle with at least a dozen bruiser bulls competing for dominance of the airwaves with their primordial screams. Just then, a bull confirmed my thoughts with a mighty bugle from somewhere across the forest. Ah, it was going to be a good day.