Bonfire Pizza/Fire Cones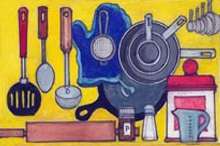 By Amy Larson
Bonfire Pizza Chips
SAUCE INGREDIENTS
1 ½ Tbsp. butter
½ Tbsp. oil, whatever you have on hand
2 tsp. garlic powder
½ c. heavy cream or sour cream
¼ c. milk
½ c. parmesan cheese
Salt, pepper, crushed red pepper to taste
NACHO INGREDIENTS
1 large bag of corn tortilla chips
½ c. diced onion
½ c sliced black olives
½ c. diced red, green, yellow bell peppers
2/3 c. sharp cheddar cheese, shredded
2/3 c. mozzarella cheese, shredded
PREPARATION
In saucepan, melt butter and oil, then stir in garlic and let flavors mix for a few minutes. Add cream and milk next, bring to a boil. Add in salt and other spices, then cheese. Stir until thickened, set aside.
Put a thin layer of chips into a skillet, pour sauce evenly over the top, then liberally decorate with the vegetables and more cheese, between layers of chips. Repeat.
Cook all until cheese is melted, and everything is warmed through.
Note: Campfire meals are the best, and so are the memories made while sitting around the fire.
One stands out for our family: when we finally got middle son Jared, usually somewhat reserved, to do the Hokey Pokey, in a rare and surprising display of showmanship. We were up in the hills near Crouch at a natural hot springs, had just finished a nice long soak, and Jared let his guard down, to the delight of the group. Priceless.
Fire Cones
INGREDIENTS
Ice cream waffle cones
Toppings like mini marshmallows, M&M'S™, Reese's Peanut Butter Cups Minis™, chocolate chips, white chocolate chips, butterscotch morsels, mint chocolate chips, sliced bananas, berries, chopped or sliced nuts.
PREPARATION
Place marshmallows and toppings together in the cone, wrap cone with foil. Heat over the fire for a few minutes, then unwrap and devour!
Could also be topped with some spray whipped cream and a maraschino cherry.
Note: A great place to camp (and try out this recipe) is the Bruneau Dunes State Park, with its multiple large sand dunes and two small lakes, just south of Mountain Home.
The tallest dune is approximately 470 feet high, the largest single-structured dune in North America.
There are also telescopes for stargazing available at the Bruneau Dunes Observatory.