Bubbles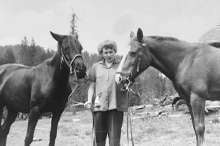 Fun Almost Beyond Belief
By Dona Kay Faubus
I met her at the swimming pool. We were about the same size, but she was blond with blue eyes and I'm a brunette with brown eyes. We were both small. I was thirteen and she was twelve during the first of the two summers we camped, for probably a little over a month both summers. This was during the 1950s, a calm and innocent time. Bubbles and I rode our bikes—actually, I rode my brother's bike, because mine was really old and his had three speeds—all over Moscow, and I mean all over Moscow, with our little dogs running along behind us. Mine was a cocker spaniel and Bubbles had a Pekingese. We still went swimming a lot, too.
When I found out Bubbles didn't know how to ride a horse, I decided we should ride our bikes from Moscow out to Grandma's farm so she could learn. She lived at Flannigan Creek, about fifteen miles down the highway and over a mountain through a pretty granite pass, and then a left turn at the town of Viola, and then down dirt roads to Grandma's. I had ridden horses into Moscow from the farm and back with my Aunt Jamie but had never gone out there on a bike. The horses belonged to my aunt, who was in the Air Force when Bubbles and I made friends, so they were available to ride whenever I wanted.
My family lived in a house on a hill not far from the University of Idaho, which even then had many foreign students and held a lot of different events. This meant that even though Moscow wasn't as advanced in some ways as larger towns, it was definitely an interesting place to live. I loved the public swimming pool and we had two movie theaters, both of which I worked at as an usherette in my high school years. I sang in the choir at our sweet little church on the corner. The town had no crime to speak of but despite how cool Moscow was, I always wanted to be at my grandparents' farm. The horses were a big part of that.