Buggy Ride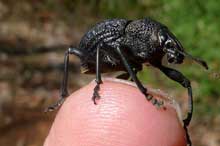 A Semi-Horrible Scene
By Les Tanner
Here's the scene: the wife and I, who have been married fifty years and one day, are riding around the Sun Valley area where we honeymooned, taking in the sights and reminiscing.
We drive up a bumpy and very dusty road—did I mention that my wife had spent a couple of hours washing and waxing the car before we left home?—to check out one of the spots we'd visited so long ago. When we get hungry, we stop in the shade of some pine trees to eat a magnificent picnic lunch. (Okay, not so magnificent, just a can of fake potato chips, two drumsticks from the deli at the local supermarket, some tepid bottled water and a nearly-ripe peach from Honduras or somewhere.) As we eat, we wander around looking at flowers and butterflies.
That repast finished, we drive back down to the highway, adding a couple more pounds of dust to the car, and turn west toward Galena Summit, where we had gathered some cool-looking rocks on our honeymoon. We come to a straight stretch where I can test out the new—okay, used—car that I'd bought the missus as an anniversary gift. I step on the gas and get the speedometer up almost to the forty mark when all of a sudden there's a scream that causes every hair on my body to stand out straight.