Buttermilk Biscuits/Monster Cookies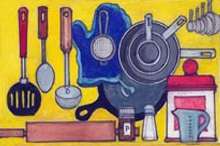 By Amy Story Larson
Our recipes this month come from Bobbette (Bobbi) Williams, a Blackfoot native whose mother, Sally Williams, delayed a cosmetology career to work hard in local potato processing plants. Sally recalls being elbows-deep in bread dough as a five-year-old with her grandmother, who taught her to cook. The two lived with Sally's parents until she married and gave Bobbi her brother Jake and sisters Tiffany and Cassandra. Bobbi had the opportunity to stay with her grandparents, traveling with them into the mountains of Idaho, Montana, and Wyoming.
A hard worker herself, Bobbi started at age fourteen in the potato fields during harvest season. She graduated from Snake River High, took vocational classes, and then worked at the Idaho National Engineering Laboratory as executive secretary for leads in the Department of Energy. Bobbi met her husband-to-be, Hinsel Scott, in the "old school" style, on Internet Relay Chat. The New Orleans resident visited Idaho, went hiking and camping, and was hooked. He loved everything the state had to offer and moved to Pocatello in 2002, where Bobbi was working for a telecommunications company. The next year, she received a promotion and the couple relocated to Boise.
Bobbi has loved singing, dancing, and food all her life. Despite health setbacks, she remains what I call a "food angel," regularly bringing goodies and amazing dishes to friends. Her skills around an oven and kitchen demonstrate that her grandmother's cooking legacy lives within her.
Bobbi's Mile-High Buttermilk Biscuits
INGREDIENTS
7 Tbsp. frozen butter, cut into tiny pieces
2 1/2 c. White Lily Self-Rising Flour™ sifted (can use any self-rising flour)
1/4 c. frozen lard, cut into tiny pieces
3/4 tsp. granulated sugar
1/2 tsp. salt
3/4 tsp. baking soda
3/4 c. cold buttermilk
1/4 c. + 2 Tbsp. heavy cream
*Very important: Keep cream and buttermilk in the refrigerator until you are ready for them, and make sure your butter and lard are frozen when they are cut into tiny pieces.
PREPARATION
> Sift together dry ingredients. Whisk together to incorporate baking soda and salt. Add small pieces of lard and butter. Cut in butter and lard with pastry cutter or top end of whisk, blend until only small pieces remain. Create a "well" in the center.
> Pour heavy cream into buttermilk, stir well. Set aside 2 Tbsp. of the liquid, pouring remainder into the "well." Fold flour mix from the outer edges in, covering buttermilk, then stir about 15 times. Dough will be a little sticky. If loose flour, add a little buttermilk mixture, stirring until desired texture. If dough is sticky, sprinkle flour on it before pouring onto work surface.
> Dust flour onto work surface, flour hands, then roll dough into a rectangle ½" thick with a rolling pin. Cut it horizontally into three equal pieces, and then stack the pieces. Rotate them 90 degrees, repeating 6 times to create light flaky layers. Lastly, roll dough out to be 1" thick.
> Cut 8-10 biscuits (straight up and down) with 2" round biscuit cutter. Slide scraps together to retain layers, press dough again into rectangle with 1" thickness and repeat.Place biscuits onto parchment-lined baking sheet, arranged so they barely touch. Top each with a tsp. of melted butter. Bake at 450 for 13-15 min.
NOTE: You can even add another spoonful of butter to the top when right out of the oven for serving! Enjoy!
Bobbi's Monster M&M Cookies
INGREDIENTS
1 c. bread flour
3/4 c. all-purpose flour
1 1/2 tsp. kosher salt
1 tsp. baking soda
1 tsp. espresso powder
3/4 c. dark brown sugar
3/4 c. white sugar
1 c. browned butter
2 eggs
2 tsp. vanilla
1 1/2 c. M&M's™ milk chocolate candies
3/4 c. dark or semi-sweet chocolate chips
PREPARATION
> Brown butter until color changes. When it foams, you should start to see brown bits at bottom of pan. Continue stirring until you smell a nutty aroma. When butter reaches a dark amber color, remove from heat, and pour into heat-proof container. Let cool at room temp or in refrigerator.
> Cream together brown sugar, white sugar, browned butter on medium speed until light and fluffy. Add eggs and vanilla slowly until incorporated.
> In a separate bowl sift together flour, salt, espresso powder and baking soda. With mixer on low, add flour mixture one cup at a time just until mostly incorporated. Stir in 1 cup of M&M's and dark chocolate chips. (Reserve some M&M's to put on top of cookies.)
> Refrigerate dough for at least four hours.
> Preheat oven to 350.
> On parchment lined cookie sheet, use an ice cream scoop or make golf-ball-size balls, place cookies 3" apart, 6 per 11"x 17" cookie sheet. Press candies into dough all around the cookie ball.
> Bake 14-16 min. The cookies will have light brown edges and soft-looking tops but after a minute or two out of the oven, they will set and be chewy. I test-bake one cookie to see how long it will take, checking it at 13 minutes, then every minute after until I see the golden edges.
NOTE: This dough freezes perfectly! You can form all the cookies and pop them in the freezer. Go straight from the freezer to the oven whenever you want that homemade goodness.