Cambridge to White Bird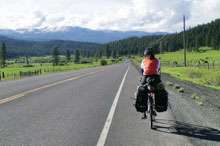 A Lone Cyclist on a Long Ride
By Elizabeth McGowan
In 2000, Pulitzer Prize-winning journalist Elizabeth McGowan, then thirty-nine, learned she had been free for five consecutive years of the melanoma that had plagued her. She celebrated by quitting her newspaper job and embarking on a four-thousand-mile bicycle trip across America. Her goal was to raise research funds to combat the disease. The almost ninety-day trip also brought her closer to her late, enigmatic father, who had died of melanoma. The following excerpt from her new book, Outpedaling "The Big C" (Bancroft Press, Baltimore, 2020), describes Elizabeth's ride through part of Idaho, and is reprinted with permission.
My first face-to-face conversation that day wasn't until noon in Cambridge, an Idaho community of about 375 near the Weiser River where Highway 71 merges with Highway 95. After eating the last of Ken's tomatoes on a patch of lawn in front of the library, I wheeled to the combination gas station/farm cooperative to check my air pressure. "What lovely helmet hair," said the jovial man who loaned me his tire gauge. My once light-brown hair was becoming blonder by the day.
"Thank you. I'll take that as a compliment," I replied, laughing. "I like to think this sculpted look will soon be all the rage." A sales clerk who overheard our banter asked for a brochure. Seconds later, she mentioned her husband's recent surgery for skin cancer—and handed me a five-dollar donation.
Those encounters, plus my talks with Ken, confirmed that I had emerged from the grumpy stretch of trail [the author had felt displeased near Brownlee Dam]. The kindness continued east of Cambridge when I stopped at a roadside sign marking a historic apple farm. There, I met a clutch of four westbound bicyclists who had christened themselves the Cabooses because they were consistently at the tail end of their tour group. "We're eating our way across the country," said one, recommending I stop for free pie at a town in Illinois whose name escaped her. "You'll know it when you see it." They also warned me that Kentucky's bicycle-chasing dogs were fact, not fiction.
In Idaho, most dogs just barked from pickup trucks. But larger mammals were a concern. Barn-size mounds of hay, which dwarfed any bale I had ever seen, and bold yellow-and-black "Watch for Stock" signs, which had nothing to do with the perils of Wall Street, were reminders of agricultural abundance. Cattle, an introduced species, are hoofed mowers.
They roam on expansive grasslands where bison once ruled before the fences of immigrant Europeans became commonplace. Near Council, I was jarred by the sight of an intimidatingly large bull charging up the shoulder, straight at me. Even though he was a vegetarian and I was not much of a carnivore, I surely would be on the losing end of a collision with this big hunk of red meat. I stopped first. He halted. We stared. Then, wide-eyed, he daintily sidestepped me and hurried toward his four-legged companions.