Can-Opener Gourmet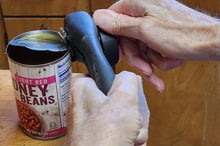 A One-Pot Wonder
By Gary Oberbillig
I am certain that my fondness for one-pot cookery is not only because it makes dishwashing easier but because it fuels my vivid memories of the Dutch oven on the sagebrush campfire we had on family outings, when we poked around looking for agates or arrowheads. My stepfather, Austin Case, was an avid collector of such relics and back in those innocent days it was still legal to pick up an ancient projectile point if you were lucky enough to find one.
Chances are he was reliving his own boyhood along the Snake River near Glenns Ferry, which was a trove for arrowheads and the tiny seed beads collected on anthills by industrious red ants. We combed the sandy spots along the Snake River after a rain, when the flint and obsidian chips would resurface. Maybe the larger points we found were for atlatl darts, ancient stone-tipped weapons that were flung with the aid of leather straps.
I know that small portable stoves are considered to be the environmentally correct cooking solution these days but I grew up at a time before campfires were discouraged. They were thought essential to cook dinner, to thaw out freeze-dried fingers, and to warm the heart. For me, a sharp machete in its leather sheath is handier to carry than an ax and is always useful to cut dry sagebrush wood if open fires are permitted. The rising smoke of the burning sage purifies whatever needs purification in you, and the orange embers will grill a steak or boil your beans. Afterwards, you get a first-rate light show of dying coals to accompany the sundown song of a coyote.