Chicken Pot Pie/Apple Fritter Bread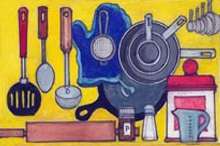 By Amy Story Larson
This month's recipe contributor, Melissa Crow, is a stay-at-home mom of twenty-three years and a military chaplain's wife. She has used baking as a way to supplement the family income and as therapy while her husband has been deployed. Melissa was born and raised in Idaho, where she raised three children who she hopes will be able to do the same, all the while sharing her passion for baking.
Easy Chicken Pot Pie
FLAKY DOUBLE CRUST INGREDIENTS
2-1/3 c. flour
1/2c. oil plus 1 Tbsp.
1 tsp. salt
1/4 c. milk plus 1 Tbsp. milk
Note: If you don't want to make the crust from scratch, buy refrigerated pie crusts.
FILLING MIXTURE INGREDIENTS
2 c. shredded cooked chicken
1 c. mixed vegetables (drained)
ROUX INGREDIENTS
1/4 c. butter
1/4 c. flour
Approx 3 c. milk or chicken stock
Salt and pepper to taste
Note: If you don't want to make the roux from scratch, mix 1 can cream of chicken soup with 1 c. chicken broth.
CRUST PREPARATION
> If you're not using a refrigerated crust, mix flour and salt together, and then add milk and oil until it forms a ball. Divide in half.
> Wet counter space and place plastic wrap down. Place first dough on it, covering it with another piece of plastic wrap.
Roll dough out to be larger than your pie pan. Remove top plastic wrap, flip over into pie pan and remove the bottom wrap.
> Repeat with second ball of dough, but leave this crust aside for now.
> Bake bottom crust at 350° for 35 minutes in a 9-inch pie pan.
ROUX PREPARATION
> In a saute pan on medium low heat, melt butter, add flour, whisk together, approximately 3-5 minutes.
> Cool slightly and then add milk slowly. Whisk until combined to make a nice gravy. (It gets thicker as it cools, so don't worry.)
Add salt and pepper to taste, and remove from heat to cool slightly.
> Mix roux with vegetables and chicken until all is coated. Place in pan with bottom crust in place. Top with second crust and make fluted edges. Cut slits in top to allow steam to release while baking.
> Cook for 35-45 minutes until crust is light golden brown (keep in mind, you'll have to adjust this with various ovens and elevation). Let cool for 10 minutes, slice and enjoy!
Amish Apple Fritter Bread
INGREDIENTS
1/3 c. brown sugar
1/2 tsp. Cinnamon
1/2 c. (1 stick) unsalted butter, softened
2/3 c. sugar
2 eggs
2 tsp. vanilla extract
1 1/2 c. all purpose flour
2 tsp. baking powder
1/4 tsp. salt
1/2 c. milk
1-1/2 c. diced apples (about 2-4 apples) mixed with a little cinnamon and sugar to coat
POWDERED SUGAR GLAZE INGREDIENTS
1/2 c. powdered sugar
1/2 Tbsp. butter, softened
2 Tbsp. milk
1/4 tsp. vanilla extract
GLAZE PREPARATION
> Blend powdered sugar and butter together until smooth. mix in the milk and vanilla until it is a nice, smooth glaze consistency.
I always like to add vanilla "caviar" so I can see the vanilla bean in my icing—you know, those beautiful specks.
BREAD PREPARATION
> Preheat oven to 350° (very important).
> Butter and flour loaf pan so the bread will slide out easily.
> Mix brown sugar and cinnamon together in a bowl and set aside. In a large mixing bowl, beat together sugar and butter until smooth. Beat in eggs and vanilla until blended.
> In a medium bowl, stir together flour, baking powder and salt. Add dry mixture to the wet mixture and stir until well blended.
> Pour milk into the batter and blend until smooth. Pour half the batter into the prepared loaf pan, add half of your chopped apple mixture (layers are apples mixed with cinnamon and sugar), and then pour rest of batter on top of apples. Top with remaining mixture and pat it slightly into the batter. Sprinkle with the brown sugar and cinnamon mixture you had set aside.
> Bake until toothpick inserted comes out clean, approximately 60 to 70 minutes, depending on oven and elevation.
> Let the (heavenly) bread cool about 30 minutes before drizzling the glaze on top.
This makes a wonderful gift, or just slice and enjoy it.