Chili Relleno/Carrot Cake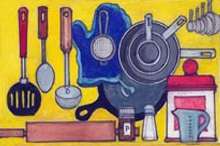 By Amy Story Larson
This month it's my pleasure to feature two recipes from K.D. Ische. I met K.D. and her husband, Allan, through their karaoke business. While K.D. befriends everyone with her warm smile and consistent hospitality, Allan entertains by singing funny songs and dancing across the floor.
"I have been cooking and experimenting in my kitchen since I was seven years old," K.D. says. "My family and often friends are my guinea pigs. So far, all have lived. We are newbie Idahoans, as we have lived here only since 2010. We love it here and will be here for many years to come. While I enjoy my baking and cooking escapades, I also enjoy my gardening and karaoke with my hubby of forty-one years. I hope you enjoy these recipes."
Chili Relleno Casserole
OK, a few people have asked for my chili relleno recipe, so here goes. Allan says the only thing wrong with it is it doesn't make enough (like a 9 x 13 casserole isn't enough). Tweak this recipe to your personal taste. For example, add sliced olives.
INGREDIENTS
8 to 10 large poblano or pasilla chili peppers, enough to cover the bottom of the 9 x 13 pan (I have also used Anaheims or whatever mix of mild chilies I have from the garden).
1 28-oz. can green enchilada sauce (your preference on the heat index).
1 onion, diced
1 or more jalapenos, diced
1/2 c. cilantro, diced
3 c. Monterey jack cheese and/or pepper jack, shredded (use queso, if preferred).
2 eggs, beaten
1 c. all-purpose flour
1 tsp. baking powder
1 tsp. baking soda
1 c. beer or milk
PREPARATION
> Parboil the chili peppers to soften the skins before deveining them and removing the seeds.
> Spray pan with non-stick cooking spray and pour in 1/2 of the green enchilada sauce. Cut each pepper in half and place half of the resulting halves on top of the sauce to cover the bottom of the pan. Cover the peppers with 1 cup shredded cheese, and then sprinkle diced onions, jalapenos, and cilantro over the cheese. Cover with the rest of the chili halves. Set aside.
> Mix together the eggs, flour, baking powder, baking soda, and beer or milk until smooth. Use enough beer or milk to make the mixture the texture of pancake batter. Pour the mixture over the ingredients in the pan. Bake at 350 degrees for 45 minutes, checking for a golden brown coloration of the batter.
> Remove from oven and cover with remaining 2 cups of shredded Colby jack cheese (or 1 cup cheddar and 1 cup Monterey jack), more if you please. Cover casserole with the remaining green enchilada sauce and cheese and return to the oven for 10 to 15 minutes, until cheese is completely melted. Enjoy.
Carrot Cake Cheesecake
CHEESECAKE LAYER INGREDIENTS
2 8-oz. packages cream cheese, softened
1 cup granulated sugar
1/4 tsp. kosher salt
2 large eggs
1/4 c. sour cream
1/3 c. heavy whipping cream
PREPARATION
Prepare the cheesecake layer first. This can be done early in the morning or the night before. It also can be stored for 1-2 weeks in the freezer.
> Preheat oven to 325 degrees. Using a large roasting pan, add 1 inch of water. Place the pan on the lower 2/3 of the oven and allow it to preheat.
> Prepare a 9" springform pan by wrapping the entire outside (sides and bottom) of the pan with a double layer of foil. Line the pan's inside bottom with a circle of parchment paper. Beat cream cheese with granulated sugar for 2-3 minutes, until creamy. Add salt and eggs, one at a time, beating well after each addition.
> Beat in sour cream and heavy cream, until light and fluffy (about 2 minutes). Pour into prepared springform pan. Place pan in center of preheated roasting pan in oven, making sure to be careful not to spill the water.
> Bake cheesecake for 45 minutes. Turn oven off and let cheesecake sit in oven for an additional 30 minutes. Remove and cool completely on the counter. When cooled, remove outside portion of the springform pan and place in the freezer for at least 2 hours or overnight. If using within 24 hours, feel free to merely refrigerate the cheesecake.
CARROT CAKE LAYERS INGREDIENTS
2 c. granulated Sugar
1 cup canola oil
4 large eggs
2 cups all-purpose flour
1 tsp. baking soda
1 tsp. baking powder
1/4 tsp. salt
2 tsp. cinnamon
2 cups shredded carrots
PREPARATION
> Preheat oven to 350 degrees F. Grease and flour two 9" cake pans. One of the pans should be the same springform pan you used to make the cheesecake center with, for even sizing of the layers. Place a slice of parchment in the bottom of each pan.
> In a large mixing bowl, combine sugar, oil, and eggs until blended. Add flour, baking soda, baking powder, salt and cinnamon. Beat for about 2 minutes. Add shredded carrots. Pour into prepared cake pans.
> Bake for 30 minutes. Test with toothpick, which should emerge fairly clean. Cool on a wire rack for ten minutes, and then remove from the pans and cool completely.
FROSTING INGREDIENTS
1 c. unsalted butter
1-8oz. package of cream cheese
4 c. powdered sugar
1/4 c. heavy whipping cream
1 tsp. vanilla
1 c. chopped pecans (optional)
PREPARATION
> In a large mixing bowl, combine cream cheese and butter. Beat with whisk attachment for 3 minutes. Add in sugar, vanilla and heavy cream. Beat another 3 to 4 minutes until light and fluffy. Fold in pecans. (Another option is to not chop the pecans, and place them on the icing as decorations after the cake is assembled).
> To assemble, put the cheesecake between the two layers of carrot cake. Spread the frosting, first on the sides, and then on the top. Store in the refrigerator, covered, for up to 3 days. Enjoy.