Coach Mom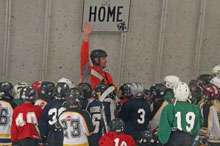 Chaos on Ice
Story and Photos by Kris Millgate
What in the world am I doing? Am I crazy? Did you hear that smack? Am I hurt? Is this a midlife crisis? Such questions crash through my mind as I lie loose-limbed on my back looking at the metal-beamed ceiling above me through a metal-barred cage across my face.
The cage is the front of my hockey helmet. The ceiling is the cover over the ice rink in Idaho Falls. I'm back-bound because a new skater who doesn't know how to stop just took me out from behind. I dropped as quickly as an icicle unhinged from a roof's raingutter.
It's week one of hockey season for the Idaho Falls Youth Hockey Association. Dozens of chilly-faced children are at the city rink for their first hockey lesson. They pile through the gate onto the ice like chips poured out of a bag. They sort themselves into a single layer and try to stand. They scramble for footing on finely-ground skate blades, find no steady stance, and pinwheel their limbs until they're laid out on the ice again.
"It's chaos on the ice. It's so easy to take a spill with those little guys out there," coach Bill Harrie tells me. "You have to watch your backside all the time."
His words ring true. I should be watching my backside better. Neglecting to notice the chaos coming at me has resulted in an unladlylike clatter to the ground for all the parents in the bleachers to see. My ears buzz and my vision blurs. The edges of the metal beams above my head soften, so I close my eyes to clear the fuzz. I'm IFYHA's newest coach in the youngest division, and is this is not my finest moment.