Feeding the Fox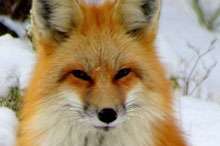 Is It Wise to Beg, or Kind to Give?
Story and Photos by Christina Hawkins
The few residents of Atlanta, deep in the Sawtooth National Forest, are the kind of people who find harmony with nature—and in recent years, they have occasionally extended this connection to actually nurturing local wildlife.
A plague of wildfires in the region has induced animals to take up residence near the quiet little town. Last summer, among this group of displaced creatures was a pair of male foxes, most likely littermates. Desperate for food and shelter, one of the foxes kept to his natural instincts of hunting and scavenging for food, while the other took a different approach.