Cocoa/Pork Roast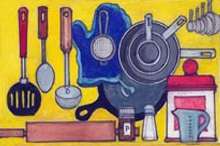 By Amy Larson
Kicked-Up Cocoa
In a pinch, tearing open a package and running hot water into a mug will sometimes suffice, but bumping up the cocoa routine can infuse some fun and variety into otherwise drab, cold winter days. Here are a few suggestions:
Use milk, half and half, or heavy whipping cream for a smoother, richer taste
Consider adding in a tea bag: chamomile, peppermint, orange spice, etc.
Cinnamon, allspice, nutmeg, and cayenne are all terrific add-ins
Experiment with full-flavored syrups like hazelnut, butterscotch, or almond
Shake up your marshmallows by toasting larger ones on the "broil" setting in the oven, or investing in some delicious home-made marshmallows found at co-ops and specialty markets
Whipped cream? Yes, please! Don't forget to top it with a sprinkling of cinnamon, cocoa, crushed candy cane, rainbow sprinkles, mini chocolate chips, M&M™ minis, roasted coconut, or whatever goes best with the new specialty cocoa you've just concocted!
NOTE: It's widely believed that the Aztecs came up with the first chocolate beverage about 2,000 years before a Mexican-inspired drink caught on in Europe, its popularity spreading from there. The warmed liquid was believed to be helpful in healing liver and stomach conditions. Hot chocolate or "cocoa" is now served worldwide in a many different forms, flavors, and densities. These ideas and more found on dairygood.com.
CoraLyn's Crock Pot Pork Roast
INGREDIENTS
1 pork shoulder roast
2 cans cream of mushroom soup
1 c. or can of beef broth
1 package of onion soup mix
1 c. water
PREPARATION
In a bowl, combine cream of mushroom soup, beef broth, onion soup mix, and water. Mix well until smooth. Place the pork roast in a crock pot. Add the soup mixture. Cook on low for 6-7 hours until tender. It's great with potatoes. Enjoy!
NOTE: The home of Steve and CoraLyn Laub is the site of many a great meal. The soccer-centric Laubs both come from large families, and have a multitude of friends. A Laub party is sure to involve laughter, good food, and fond memories, an occasion you wouldn't want to miss. CoraLyn says, "We love this recipe because it's easy, and perfect for this time of year when you want to come home to something warm and comforting."
*Pork has long been considered a New Year's good luck food. Cuba, Spain, Portugal, Hungary, and Austria are all countries big on serving pork at the start of the year. Pigs have been considered a symbol of progress, because of the way they constantly push and root themselves forward on the ground. In Italy, pork signifies wealth and prosperity.
These recipe pages are brought to you by the Idaho Dairy Council