Coming Home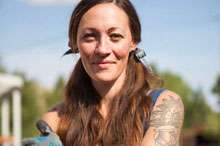 Somewhere Old, Somewhere New
Story and Photos by Greta Rybus
I ask my mom for the keys to her car, the way I did when I was seventeen.
I wake up early, drive out of the foothills and down Boise's State Street, past my dad's favorite lumber store, to re-enter the hills from a new angle. Every so often, I need a day like this. It's just me, a water bottle, my wallet, and my camera. No true plan, just a direction. On this day, it's north toward Horseshoe Bend. I want to go somewhere new in a place that feels familiar.
I live in Maine now, and on this September day, it has been almost a year since the last time I was in Idaho. I moved away the summer after high school, nearly ten years ago. I like coming back in September, the prettiest time of year almost everywhere in the United States, but especially in Idaho. In that month, Idaho is a romance of golds and browns, hard workers and harsh sunlight, open space and wildness.