Huckleberry Hounds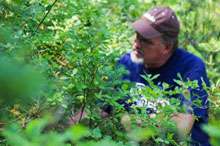 Nosing Out a Good Patch
By Lana Creer-Harris
Thirty-six hours after I left that peaceful berry patch on Henrys Fork, I could still smell huckleberries.
By then, I was back in Utah with a few cups of berries in the fridge and their robust, fruity fragrance in my head. This was in August, after my first huckleberry picking expedition with my brother, Brandon Creer. He warned me that my fridge would smell like huckleberries, which sounded great. I don't see Brandon very often and was looking forward to our day together. I expected it to be fun, but from the minute I entered the berry patch, I loved it.
Brandon took my husband Rich and me to berry patches at Upper Coffee Pot campground on Henrys Fork, an eastern Idaho tributary of the Snake River.  His family picked there and he knew the bushes were accessible for his arthritis-laden sister. I'm thirteen years older than my fifty-three-year-old brother, and many pounds heavier. Neither of us have knees worth a darn, so the ease of picking was the main factor in selecting a spot.
I berry-picked when I lived in Alaska, and love the meditative quality of the exercise. The first time I picked tundra blueberries in Nome twenty years ago, I picked alone and envied the women who had family with them. I wanted that family feeling to accompany the berry picking. Brandon likes it, I like it, and we like each other. Off we went.